Shortly before Kushner accompanied Trump on his first diplomatic trip to Israel in May, his family real estate company received about $30m in investments from Menora Mivtachim, one of Israel's largest insurers and financial institutions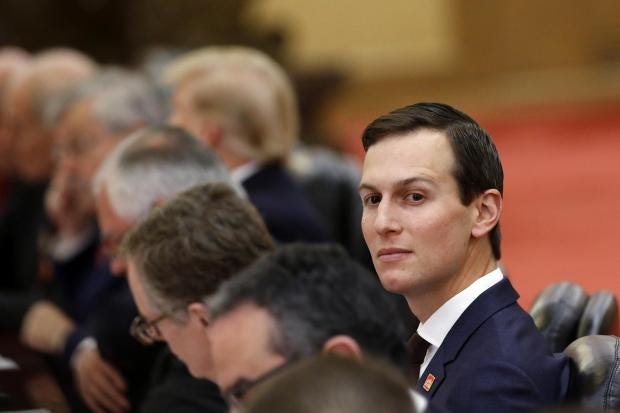 There was a time when we all went along with the myth that American peacemaking in the Middle East was even-handed, neutral, uninfluenced by the religion or political background or business activities of the peacemakers. Even when, during the Clinton administration, the four principle US "peacemakers" were all Jewish Americans – their lead negotiator, Dennis Ross, a former prominent staff member of the most powerful Israeli lobby group, Aipac (The American Israel Public Affairs Committee) – the Western press scarcely mentioned this. Only in Israel was it news, where the Maariv newspaper called them "the mission of four Jews".
The Israeli writer and activist, Meron Benvenisti, wrote in Ha'aretz newspaper that while the ethnic origin of the four US diplomats may be irrelevant, "it is hard to ignore the fact that manipulation of the peace process was entrusted by the US in the first place to American Jews, and that at least one member of the State Department team was selected for the task because he represented the view of the American Jewish establishment. The tremendous influence of the Jewish establishment on the Clinton administration found its clearest manifestation in redefining the 'occupied territories' as 'territories in dispute'.
But lest they be accused of antisemitism, said Benvenisti, the Palestinians "cannot, God forbid, talk about Clinton's 'Jewish connection'…" Still slandered as "antisemitic" for merely condemning Israel's brutality and occupation of the West Bank and East Jerusalem, the same fear still eats away at the courage of the Palestinian Authority. When Trump's Jewish son-in-law Jared Kushner became the disgraceful President's peace "envoy", the Palestinians, well aware that he supported the continued – and internationally illegal – colonisation of Arab land, even politely welcomed his sudden exaltation as peacemaker. It was the Israeli media that first pointed out how little he knew – and how few people he knew – in the real Middle East.
more:
 http://www.independent.co.uk/voices/jared-kushner-israel-business-connections-no-scrutiny-palestine-difference-us-relations-donald-trump-a8153411.html