Civilians and police and security forces have repeatedly been targeted in recent years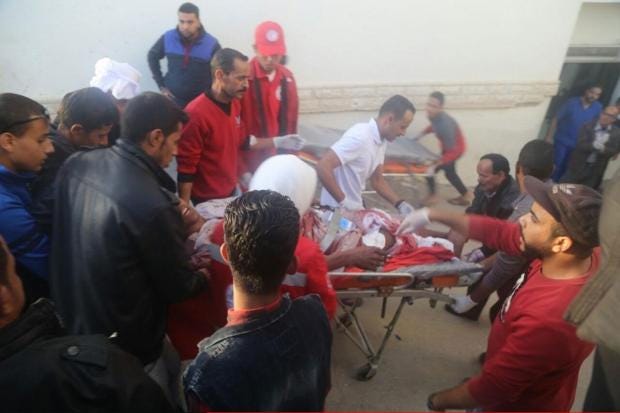 The Sinai mosque massacre proves what many have suspected for months in Egypt: that Isis – even without a direct claim yet –  is taking over the peninsula, targeting more and more of President Abdel Fattah al-Sisi's officers and police.  Thus proving that tactical defeat in Iraq and Syria means for Isis merely a change of location.
The "fall" of Sinai – perhaps even stretching down to Sharm e-Sheikh – the supposedly "safe" tourist resort – would only further undermine al-Sisi's brash claims after his coup that he would end "terrorism" in Egypt.
This supposed battle has led to the jailing of Egyptian 60,000 political prisoners – allegedly "terrorists" but many of them young men sickened by al-Sisi's virtual dictatorship – and an undetermined number of murders and disappearances. But the world, as usual, turned yesterday to the sending of condolences to the innocent victims of al-Sissi's enemies. Inevitably, the victims of the regime were forgotten while the "evil and cowardly" mass murder of at least 235 worshippers at the al-Rawda mosque near al-Arish was condemned by Nato, Theresa May and a host of other Western leaders.
READ MORE HERE:
http://www.independent.co.uk/voices/egypt-mosque-attack-latest-isis-terrorist-sinai-al-sisi-a8074941.html