DAILY SABAH WITH AGENCIES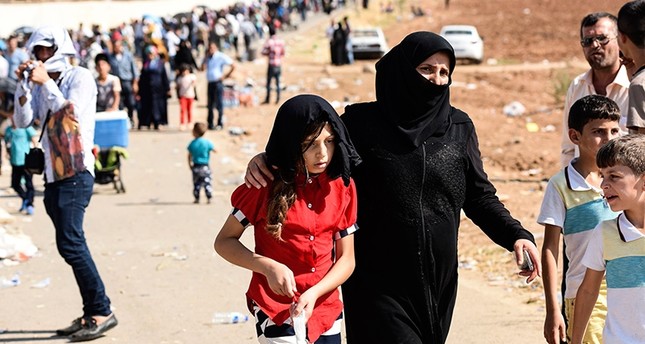 Syrian refugees arrive at the Öncüpınar crossing gate, close to the town of Kilis, south central Turkey, in order to cross to Syria for Qurban Bayram (Feast of the Sacrifice), also known as Eid al-Adha, holiday, Aug. 28, 2017. (AFP Photo)
Tens of thousands of Syrians who fled their country's civil war to Turkey are returning home temporarily to Syria to celebrate Qurban Bayram (Feast of the Sacrifice), also known as Eid al-Adha, Turkish officials said Monday.
Over the past 13 days Syrian refugees have flooded Turkey's border with their war-torn homeland with more arriving at the crossings to travel home to mark the upcoming Qurban Bayram.
Ahead of Friday's festival, some 44,000 refugees crossed into Syria, risking their lives to reunite with their loved ones on the occasion. They walk past a long line of trucks carrying humanitarian aid to thousands of Syrians trapped in the devastated country in the sixth year of a civil war. Almost three million Syrians have taken refuge in Turkey since the conflict broke out in 2011, the vast majority living in big cities rather than in camps.
The authorities put in place a special system whereby Syrians can go home for the Bayram and return to Turkey afterwards.
Filling paperwork for travel and shouldering the few possessions they have, Syrians cheerfully walk toward the other side of the border as border guards push open wrought-iron gates in Öncüpınar crossing in the southern province of Kilis. Those with children are mandated to vaccinate them at a mobile clinic set at the crossing.
Abdullah Muhammad left his relatives back in his hometown Azez and settled in Turkey three years ago. He met his wife when he joined the thousands of other Syrians allowed back in their country last year for another Muslim festival but had to leave her there due to the risky journey back to Turkey. He says he is happy to finally reunite with his wife.
Isa Darvish left al-Rai in 2014 when the terrorist group Daesh took over the town near the Turkish border. Since then, he has been unable to visit his relatives left in the town. He thanked Turkey for helping the Syrian opposition to clear his town and others from Daesh control.
But a relative stability has descended on some areas in northwest Syria following a Turkish military operation against the terrorists and a ceasefire backed by Ankara and Moscow earlier this year.
After uploading details on a special Internet site and registering, they can leave Turkish territory through the Öncüpınar border gate until Wednesday and then must return by October 15.
Long lines of Syrian families, laden with baggage, were queuing Monday to cross through Öncüpınar in time for the start of the holidays, an AFP photographer said.
Some used umbrellas to protect from the merciless afternoon sun while young children slept in the shade on rugs as the formalities were carried out.
The crossings have been allowed since August 15, according to the Kilis governorate. Turkey will celebrate the Feast of the Sacrifice on Friday.
The Syrians were returning to towns including Al-Bab and Jarabulus, which were cleared of Daesh group extremists in Turkey's Euphrates Shield cross-border operation which wrapped up earlier this year.
Turkish state media reports have indicated that life in the towns is gradually returning to normal with schools reopening and municipal services resuming.
Turkey had previously allowed Syrians to return home temporarily earlier this year for the Eid al-Fitr festival that follows the holy fasting month of Ramadan.
Qurban Bayram is a festival celebrated throughout the Islamic world marking the willingness of Abraham to sacrifice his son to God, who then sent a sheep to kill instead.
SOURCE:   https://www.dailysabah.com/turkey/2017/08/28/thousands-of-syrians-leave-turkey-for-qurban-bayram