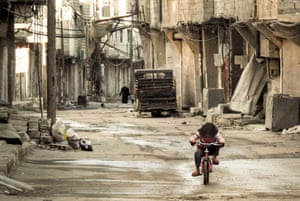 Living in a void: life in Damascus after the exodus
My sister, whom I haven't seen for more than two years, told me she was going to cross the sea in a rubber dinghy. She hung up, not wanting to hear what I thought. She merely said something profound and sentimental and entrusted her three children to my care in the event that she drowned. A few minutes later I tried to call the unfamiliar Turkish number back, but the phone had been turned off. Hundreds of images from our childhood flooded my memory. It's not easy to say goodbye to half a century of your life and wait for someone you love to drown. My fingers and toes felt cold and my head empty, and I didn't feel able to argue anyway. What can one offer a woman who has lost her home and everything she owns and, not wanting to lose her children too, carried them off into exile to seek a safe haven in Turkey? Things are not easy for a woman like her there. She looks like millions of other Syrian women and does not have any special skills. All that's left is the hope of asylum, even if it requires crossing the sea in a rubber dinghy. It's as if she's trying to tell me something I know already – that the sea is Syrians' only hope.
Maybe it was luck that saved my sister. She didn't drown, and she found friends to help her in Greece and in the other countries she passed through. She certainly didn't talk about unpleasant experiences with traffickers fleecing her out of what little money she had or leaving her destitute in an airport waiting room. In any case, she eventually reached her destination, and in Denmark found another group of friends who could provide support. Some of her fellow adventurers had drowned in scenes of unimaginable horror. Death may take many forms, but the bleakest and blackest of them all is death by drowning, which is a complete denial of everything the human body stands for. The drowned body becomes food for the fishes of the sea, and dissolves like salt in a bowl of water.
READ MORE HERE:   https://www.theguardian.com/world/2017/aug/22/living-in-a-void-life-in-damascus-after-the-exodus