Source: http://rozscott.com/
---
On a cold, wet July day I joined the international Ahmadiyya Community to discuss peace, justice and security while wading through mud in our wellies at East Worldham (previously Oaklands Farm.) The event was the Ahmadi Muslim's annual convention known as the "Jalsa Salana." Unsure what to expect, I set off on an adventure.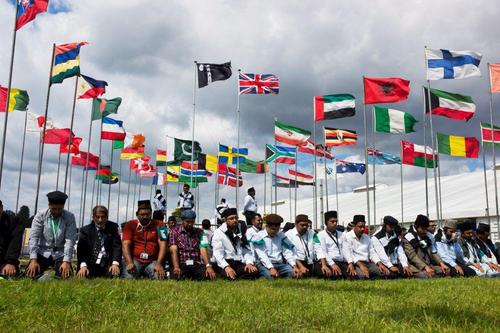 My first stop was lunch masterminded by Head Chef Rafi Shah who produced 300,000 meals for 38,000 people. Chefs worked around the clock, making 10,000 chapattis per hour and using three tonnes of rice and nine tonnes of meat. Volunteers, 5000 of them, made this event great.
Islam is the guarantee of security in the world, the Caliph told delegates. Without exception, without any discrimination, all of the people are equal. It's when people think they are superior, that they disturb the peace.
As a Christian, I was struck by this message of peace and reconciliation. In our secular society the temptation for the media is to turn to religions for a negative comment. But these journalists are missing a trick.
Editors should not be afraid to publish good news stories about religions that promote peace and human rights.
In an age of global insecurity and terrorism, spiritual leaders may have the answer and the reach as they urge people to pray for peace and to respect one another.
The Caliph told us there is no …read more at source.
Categories: Ahmadi Muslim Women (Lajna Imaillah), Ahmadis, Ahmadiyyat: True Islam, Europe, Europe and Australia, European Union, Islam in peace time, Islam: A Religion of Peace, islam: A Religion of Peace, Islamism, Jalsa, Jalsa Salana, Majlis Khuddamul Ahmadiyya, Peace, Peace, Peace and Love, Peace Conference, The Muslim Times, UK