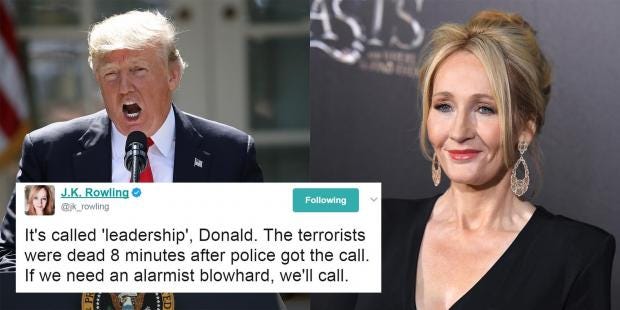 Author J.K Rowling didn't hold back from criticising problematic responses to the attack on London Bridge and Borough Market last night.
Rowling, author of the Harry Potter books and tweeter extraordinaire, called out the New York Times for saying the UK was '"still reeling from the shock of the bombing inManchester almost 2 weeks ago".
The New York Times received a lot of criticism for the "reeling" comments leading to #ThingsThatLeaveBritainReeling to trend on Twitter.
People pointed out there is a difference between grief and terror.
MORE:   https://www.indy100.com/article/j-k-rowling-donald-trump-london-bridge-terror-borough-market-7772351?utm_source=indy&utm_medium=top5&utm_campaign=i100