DAILY SABAH WITH AGENCIES
ISTANBUL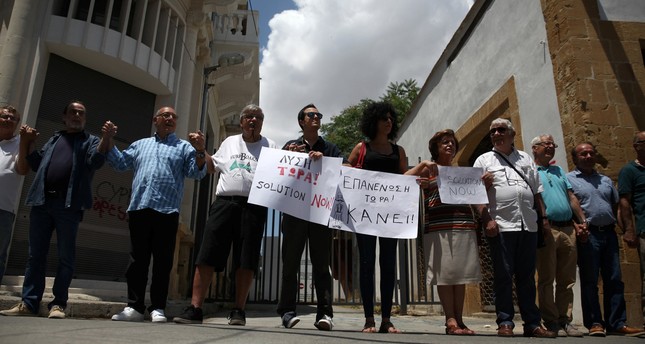 Greek and Turkish Cypriots form a human chain during a demonstration in favor of a peace settlement on divided Cyprus at Ledra's checkpoint of the United Nations patrolled "green line" in Nicosia May 27.
Amid the failure of reunification talks between the Turkish and Greek Cypriot leaders, the U.N.'s special envoy for Cyprus, Espen Barth Eide, said the shuttle diplomacy has ended. Meanwhile, Ankara and also both Greek and Turkish Cypriots have voiced support for an immediate solution and resuming talks
Amid the failure of the long-running negotiations between the Turkish Cypriot president and his Greek counterpart to reunify the ethnically-divided Cyprus, the United Nations' Special Envoy for Cyprus Espen Barth Eide on May 26 announced that the shuttle diplomacy between the Cypriot leaders was unable to produce any results. While Ankara has voiced its support for continuing the negotiations between the leaders of the two sides, both Greek and Turkish Cypriot people voiced support for reunification talks with a protest in Nicosia.
"Unfortunately, despite serious efforts to overcome their differences regarding the modalities for meeting in Geneva, the leaders were unable to find common ground," Espen Barth Eide had said in a written statement on Friday. "Without a prospect for common ground, there is no basis for continuing this shuttle diplomacy," he had added. Commenting on this issue, Turkish Foreign Ministry spokesperson Ambassador Hüseyin Müftüoğlu said on Saturday that the conference on Cyprus must reconvene without any precondition.
"Our view is that the preconditions put forth by Greek Cypriot Leader Mr. Anastasiades for reconvening the Conference on Cyprus are contrary to the principles of the Leaders' Joint Declaration of Feb. 11, 2014, that all issues 'will be discussed interdependently' and that 'nothing is agreed on until everything is agreed on.' They are likewise not in keeping with the statement from the Conference on Cyprus dated Jan. 12, 2017."
more:   https://www.dailysabah.com/diplomacy/2017/05/29/greek-turkish-cypriots-link-arms-across-border-solution-now