theguardian: by Julia Ebner —
In the hope of preserving the status quo the government is enacting a symbolic policy that feeds into identity wars between Muslim and non-Muslim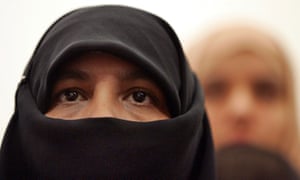 'The policy ultimately risks normalising far-right rhetoric, validating populist party programmes and empowering Austrian identity movements by demonising Muslim communities.' Photograph: Scott Barbour/Getty Images
Austria's decision to introduce a full-face veil ban in public spaces such as courts and schools comes as anti-Muslim bigotry across the US and Europe is reaching an all-time high. The terrorist attack on the Québec City mosque should act as a warning of what can happen. It is, to say the least, rather unwise timing for the Austrian centrist coalition to announce a policy that disproportionally targets Muslims.
With only about 150 women affected, the Austrian ban on the niqab and the burqa is considered a symbolic act rather than a policy aimed at responding to a security threat, or to provoke social change. It is a kneejerk reaction to the rising popularity of the far right and increasing public pressure on the coalition to take firm and visible action. In their desperate attempt to regain the public's confidence, centrist politicians across Europe have been increasingly pandering to far-right voters. Policies that were initially suggested by parties such as the Austrian Freedom party (FPÖ), the German Alternative für Deutschland and the French Front National are now increasingly being adopted by mainstream politicians.
The veil ban is only one of the responses to the fears of large parts of the population that Austrian culture and traditions are being eroded. The mainstream media's sensationalisation of jihadist attacks coupled with widening far-right echo chambers that spread fake news have shaped public perceptions about the links between the migration crisis and the terrorism threat. Rightwing populists have cunningly exploited the 2016 attacks in Bavaria to suit their political agenda, and the lines between Muslim refugees and potential terrorists have become increasingly blurred in the public perception.
The political pressure faced by the Austrian government is particularly high since the narrow victory of the left-leaning Alexander Van der Bellen against the FPÖ's far-right candidate, Norbert Hofer, in the presidential elections of December 2016. As the most recent opinion polls reveal, the FPÖ would win a general election if it were to take place tomorrow. Although the next elections are in 2018, the increasingly divided coalition, led by the Social Democrats (SPÖ) and the People's party (ÖVP), has been trying to prevent the collapse of the political status quo and avoid an early poll.
This has led parties to opt for politically favourable policies rather than those that might be strategically valuable. Nuanced, values-based approaches that emphasise human rights are increasingly replaced by draconian laws that cut down on civil liberties. But the full-face veil ban is not just illiberal, undermining the pluralistic values that our democracies are built on, it is also ineffective and even counter-productive.
Most important, it risks causing confusion about the extent and nature of any terrorist threat to Austria by conflating religious conservatism and religious extremism. A 2015 study showed that every second Austrian citizen was afraid of Islam, and perceived it as a threat to Austrian culture. Some 65% percent of the survey respondents said they found the clothing and behaviour of Muslims living in Austria disturbing.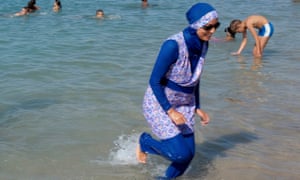 'In France, both the burqa ban and last summer's burkini ban have widened the rifts within society along religious and racial lines.' Photograph: Reuters
France and Belgium were the first European countries to introduce the niqab and burqa ban in 2011. Women who wear full-face veils can face fines of up to €150, or be required to take citizenship courses. In France, both the full-face veil ban and last summer's burkini ban have widened the rifts within society along religious and racial lines.
The policy ultimately risks normalising far-right rhetoric, validating populist party programmes and empowering Austrian identity movements by demonising Muslim communities. This has fed into the continuing identity wars between Muslim and non-Muslim, which both far-right extremists and jihadists have capitalised on. Several studies have shown that the resulting grievances have been a major contributor to France's high radicalisation rates. Looking at the backlash the policy has provoked in France and Belgium, it is hard to imagine that any government would choose to imitate such a ban when it has so obviously failed to reach its declared goal of encouraging citizens to "live together".
Ultimately, in any liberal democracy, clothing should remain a matter of choice rather than an obligation. The freedom to choose from a wide range of fashion, from corset and stockings to a full-face veil, is the fundamental right of all women. Neither their husbands nor their politicians should have the right to prescribe to them what they wear.
But even regardless of the questionable moral grounds of this policy, governments should ask themselves: aren't there more effective ways of promoting a pluralistic, open society? Instead of criminalising clothing in public institutions they could promote an open dialogue about Islam and its traditions in such places. A culturally sensitive policy would emphasise education about the differences between true Islamic teachings and the doctrines of movements such as Islamic State.
Origional Post here: https://www.theguardian.com/commentisfree/2017/feb/01/austria-burqa-niqab-ban-identity-wars-muslim-non-muslim