Source: The Guardian
School says apology 'a reconciliatory gesture' but critic says apology only follows media attention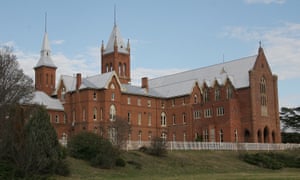 A Catholic boarding college in Bathurst is preparing to apologise to past students who were sexually abused.
Dozens of children were abused at St Stanislaus' College, a New South Walesschool that is this year marking its 150th year, making it one of Australia's oldest boarding schools.
The school, run by the Catholic Vincentian Fathers, wants its public outreach to be in the "spirit of a reconciliatory gesture", according to its headmaster, Anne Wenham.
"Our hope and intention is that it may offer one step in the healing process for all victims," Wenham said. "We will endeavour to ensure that they and their families, as well as current and former members of this college community and the public, feel welcome to join us for this."