https://2f68af35c85d19efc2f2708ea3d6e225.safeframe.googlesyndication.com/safeframe/1-0-38/html/container.html
Feb 25 2022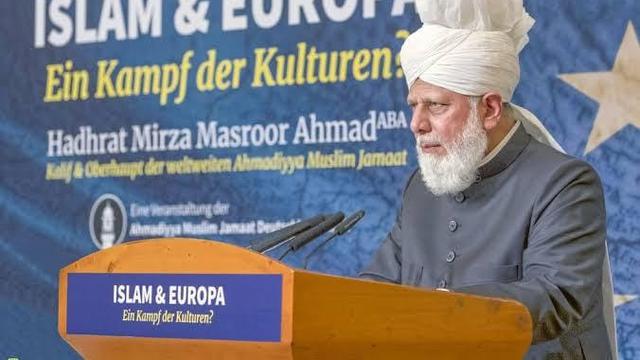 Liputan6.com, Jakarta The World Leader of the Ahmadiyya Muslim Community, the Fifth Caliph, Hadhrat Mirza Masroor Ahmad Aba is also concerned about the ongoing Russia vs Ukraine war.
"For years, I have warned the world's great powers that they must take the lessons of history, especially in relation to the two devastating and terrible world wars that took place in the 20th century. he said in a written statement quoted Friday (25/2/2022).
"In this regard, in the past, I have written letters to the leaders of various countries urging them to put aside their national and personal interests, in order to prioritize world peace and security by implementing true justice in all walks of life."
He also regretted the war in Ukraine so that the situation became very serious and precarious.
"This raises the potential for a wider, which depends on the next steps of the Russian government and the response of NATO and major powers. Undoubtedly, the consequences of any escalation (of war) will be dire and damaging. So, this is the urgent need at this time where as much as possible make every effort to avoid war and even greater destruction."
According to Hadhrat Mirza Masroor Ahmad Aba, there is still time for the world to step back from the brink of this catastrophe.
"For the sake of humanity, I urge Russia, NATO and all the great powers (powerful powers) to focus their attention on all efforts to defuse the conflict and work towards a peaceful solution through diplomacy," he said.
As Supreme Leader of the Ahmadiyya Muslim Community , Hadhrat Mirza Masroor Ahmad Aba admitted that he could only attract the attention of world political leaders to prioritize world peace and put aside their national interests and enmities for the welfare of all mankind.
"So it is my signature request that world leaders behave with care and wisdom and strive for the betterment of mankind."
source https://www.liputan6.com/global/read/4897468/rusia-vs-ukraina-perang-pemimpin-dunia-muslim-ahmadiyah-serukan-perdamaian-lewat-diplomasi