Military preparing options for No 10 but use of warships to turn back refugees seen as disproportionate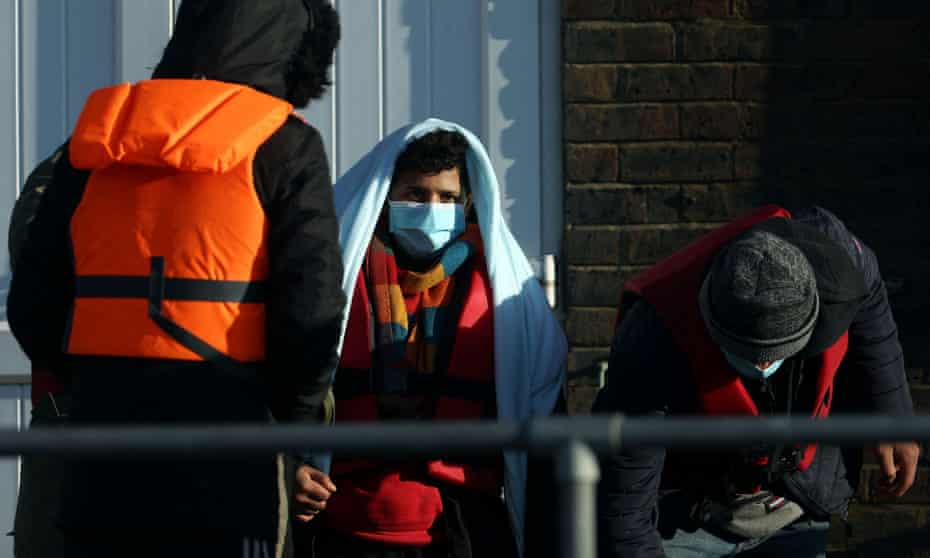 Rajeev Syal and Dan Sabbagh Mon 17 Jan 2022
The Royal Navy is not expected to pursue a controversial Home Office policy of pushing back refugee dinghies towards France once the military is given responsibility for small boat Channel crossings.
Navy sources said officers had little interest in carrying out the "pushback" policy put forward by Priti Patel, the home secretary, but which is opposed by trade unions and charities, which argue it is illegal.
"I'm not sure pushback would work; it's not part of our ethics," a navy source said, arguing that British personnel were trained to respond to mayday calls, to save lives and help tackle crises at sea.
As part of "Operation Red Meat" – policies designed to save Boris Johnson's premiership – a beleaguered No 10 indicated that the navy would soon be given the lead responsibility for dealing with refugees crossing the Channel by boat, stripping the responsibility away from Patel and the Home Office.
A naval source said they believed one of the immediate tasks would be to restore safety to the waters around Britain, after 27 people, mostly from the Kurdish region of Iraq, died in November attempting to come to the UK.
"We can't have people drowning in the Channel," the source added.Advertisementhttps://c66245026deee07962abc4343dcd6561.safeframe.googlesyndication.com/safeframe/1-0-38/html/container.html
Options are being prepared for Downing Street by R Adm Mike Utley, the commander of the UK strike force. There are no plans to start deploying warships, which would be seen as disproportionate, and the focus is expected to be on ensuring the existing Home Office Border Force fleet operates more efficiently.
A source confirmed reports that Downing Street policy experts had looked into using powerful sonic weapons to turn back the boats. The plan, first reported by Sky News, was to use long-range acoustic devices, such as those used in the US for crowd control, deployed in the Channel. However, the use of sound cannon, which emit noise powerful enough to induce vomiting, was rejected by the Home Office.
Patel has endured months of criticism from the Conservative benches over the refugee crossings, which have continued through the winter.
Earlier, Whitehall sources had said Patel had been in talks for weeks about the involvement of the military. But defence insiders said Utley had only been working on the plans for about 10 days.
The military also recognises that it would be difficult to deter refugees who had reached the stage of wanting to cross the Channel.
Reports have claimed that plans are also being drawn up to send people to countries such as Ghana and Rwanda for processing and resettlement – and that the military could also transport people to offshore processing centres, as proposed in the government's nationality and borders bill, or even operate deportation flights of foreign criminals.Boris Johnson prepares a populist offensive to save his skinRead more
So far the controversial pushback tactic has not been used. The Guardian disclosed in November that government lawyers had advised that the odds of successfully defending a challenge in the courts against the lawfulness of plans to send vessels carrying people back to France was "less than 30%".
The Public and Commercial Services Union (PCS), which represents some border and immigration officials, has said it "totally opposes" the policy and threatened strike action. It has also joined the Care4Calais charity to seek a judicial review of the tactic, which it claims is illegal.
A government source confirmed that the plans had been discussed and brought forward, and said it would be up to the Ministry of Defence (MoD) to determine operational deployments.
"The home secretary called for the military to defend UK territorial waters against illegal migration in August 2020, when the first request for support went into the MoD," said a Whitehall source.
The moves follow a record 28,300 migrants and refugees crossing the Channel to the UK last year, more than three times the 8,400 who crossed in 2020. There is no sign of a decline this year – 581 people have already crossed this month already, more than double the total for January last year.
Mark Serwotka, head of the PCS union, said: "Putting the military in charge of operational command of Border Force is a ridiculous gimmick. It is a macho political ploy designed to distract attention from Boris Johnson's ailing premiership. Our members do not need military oversight to do their jobs."
Enver Solomon, the chief executive of the Refugee Council, said: "Using the military to repel [vulnerable people] and seeking to expel them offshore is cruel and inhumane. It's a desperate move by a government that isn't able to find solutions that will ensure an orderly, manageable and fair asylum system."
Other military assets, such as British army Watchkeeper surveillance drones, may also be used to better monitor the busy Channel area for dinghies and other small vessels carrying refugees from northern France.
The MoD said: "Unacceptable numbers of people continue to make the dangerous Channel crossings, and last November's tragic deaths serve as the strongest reminder of the need to stop them." Further details on how to deal with crossings would be made known "in due course", it added.
source https://www.theguardian.com/world/2022/jan/17/military-to-be-used-to-stem-channel-crossings-as-johnson-seeks-to-stay-pm#:~:text=Royal%20Navy%20unlikely%20to%20pursue%20Channel%20refugee%20'pushback'%20policy,-Military%20preparing%20options&text=The%20Royal%20Navy%20is%20not,for%20small%20boat%20Channel%20crossings.