Editorial Board

The Jakarta Post
Jakarta   /  

Sat, May 11, 2019

  /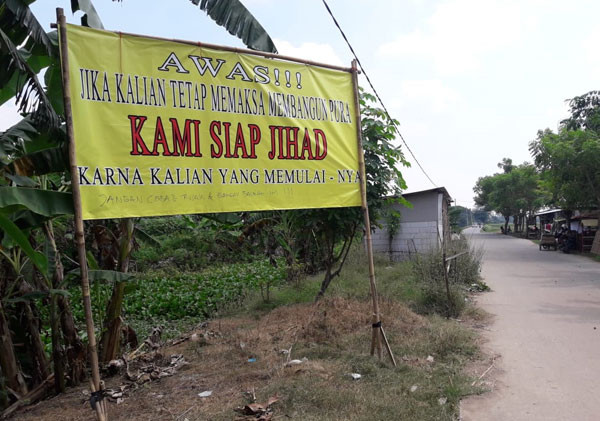 A banner in front of the site of the planned construction of a Hindu temple in Sukatani village, Bekasi regency, West Java reads: "Be careful! If you insist on building the temple, we are ready to carry out jihad as you are the ones who started this." (Tempo/File)
Indonesia is in a deep crisis of intolerance. Many insist that it is fringe groups that protest the construction of a temple or church. But if they're just on the fringe, why are they allowed to stop people from worshiping, time and again, in a country founded on acceptance of diversity?
In the latest case, dozens protested the planned construction of what would be the first Hindu temple in Bekasi, West Java, on May 5. Without a temple in the regency, at least 6,000 Hindus must go to the Pura Agung Tirta Buana temple in Bekasi municipality for major religious holidays. Bekasi Police chief Sr. Comr. Candra Sukma Kumara said the protesters were from outside the area, as construction plans on land donated by a Hindu resident had been discussed without incident since 2017.
In similar incidents, protesters have also come from the "outside"; which suggests that even if everything is peaceful among residents, troublemakers intentionally seek to bully minorities. Such incidents, which have led West Java and Jakarta to alternately lead independent indexes on intolerance, show the police don't scare them.
One reason for this failure to protect followers of all faiths is that we have lacked strong signals from the top, the presidency. As post-Reform Era presidents weigh the Islamic vote, the president and his ministers, particularly since the era of Susilo Bambang Yudhoyono, have let their campaigns of tolerance cower to the tyranny of the majority. Fearing backlash, leaders have largely let governors, regents and mayors handle highly sensitive problems themselves in the name of regional autonomy.
Furthermore, as laws and rules still restrict minorities, even state institutions such as the National Commission on Human Rights have been ignored amid rising claims of Islamists that the state accommodate what they want — namely fewer rights for non-Muslims.
Thus, the President's role is vital in repeated disputes where self-claimed representatives of the majority express hostility against minorities' right to worship.
With accusations of the forgery of permits for the construction of minorities' houses of worship, many protests against minority faith followers have ended in violence – because the main intention is clearly rejection of minorities being equal citizens.
Issues such as the mere lack of permits have to be resolved peacefully by courts and local authorities. But crystal clear signs from the national leadership are needed to unequivocally show what it takes to improve the national project that is Indonesia. We have repeatedly reported on the tendency of higher religiosity among the young, indicated by more young people signing up for haj and the popular hijrah trend of shifting from a secular lifestyle to a more religious one.
These should be positive signs of deeper spirituality. Instead we are seeing bullies given consistent impunity to loudly trample on Indonesia's constitutional protection of all its citizens anytime they please, including during Ramadan.
source:
https://www.thejakartapost.com/academia/2019/05/11/intolerance-crisis.html