DAILY SABAH WITH AGENCIES
ISTANBUL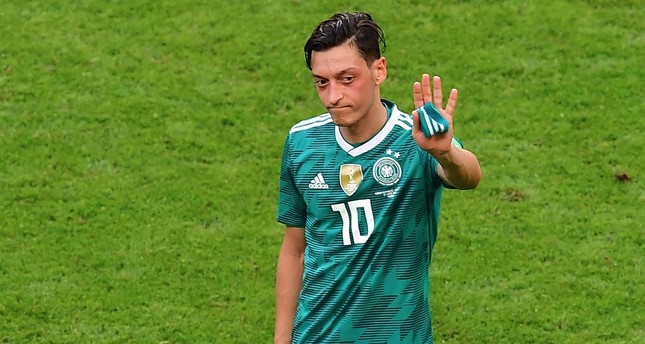 Germany's former midfielder Mesut Özil reacts at the end of the Russia 2018 World Cup Group F football match between South Korea and Germany at the Kazan Arena in Kazan on June 27, 2018.
The German Football Association is highly criticized by Germans for its inadequate stance against racism, which has eventually led football star Özil to quit the national team
Germany's parliamentary speaker sharply criticized the German Football Association (DFB) on Thursday for its mistakes that eventually caused Turkish-German football star Mesut Özil to quit the national team due to racist attitudes.
"I still do not understand how could the DFB allow such an unwise photo event to become a state affair. That's a shame," Wolfgang Schaeuble, told media group Redaktionsnetzwerk Deutschland.
Özil quit the national team on Sunday, citing racist propaganda he faced in Germany since meeting President Recep Tayyip Erdoğan two months ago.
He accused far-right politicians and media for questioning his loyalty to Germany, and using his picture with Erdoğan "as an opportunity to express their previously hidden racist tendencies."
Cacau, the integration officer of the German Football Association, also raised allegations against the DFB leadership.
Asked on Thursday evening whether Grindel's resignation would be helpful, he said that this is difficult to say at the moment because the discussion is very emotional.
In an interview with Germany's Bild newspaper, he said that the DFB made mistakes on the issue by not giving a clear direction from the outset. Cacau also called the racial allegations Özil as "very hard," saying that he had experienced nothing like that in his years at the DFB, although he also has a recognizable migrant background as a native of Brazil. "A criticism of a player with a migration background is not just racism," Cacau expressed.
The president of the DFB, Reinhard Grindel was mentioned by name in a statement released by Özil on Sunday, implying that he was one of the people that was responsible for the situation.
"In the eyes of Grindel and his supporters, I am German when we win, but I am an immigrant when we lose," Özil said in his letter while adding that Grindel did not back him, while he was receiving hate mails, threatening phone calls, and racist comments on social media.
Publishing a statement from the official website of the DFB, Grindel also confessed on Thursday that he should have done more to protect Özil from racist attacks and abuses which reached its peak after a photograph of Özil with Erdoğan aired.
Özil, 29, spent nine years on the national team, earned 92 caps and scored a World Cup win. He was attacked after the team was eliminated in the first round of the 2018 World Cup held in Russia. Right before the World Cup, Özil came under fire in Germany for meeting and taking a picture with President Recep Tayyip Erdoğan. Some criticism after the meeting, however, turned into racial abuse.
Germany's Interior Minister Horst Seehofer also expressed regret over the incidents and for Özil's decision to quit the national team.
"Without doubt Özil belongs to Germany, he is one of us," he told daily Frankfurter Allgemeine Zeitung. Mustafa Yeneroğlu, a senior Turkish lawmaker and a member of Parliamentary Assembly of the Council of Europe (PACE), also criticized Germany for its attitude during the Özil crisis, telling Anadolu Agency (AA) that racist rhetoric has been an emerging trend among the middle and upper classes in Germany in recent years.
"This reaction of Özil articulated the feelings of millions of migrants who live in Germany and Europe. It articulated the feelings of Muslims. They view Özil as a hero," Yeneroğlu said.
He added that Muslims and especially the Turks living in Germany are viewed as a "threat" in the long run for German nation-state.
Özil racism row sparks #MeTwo debate in Germany
In addition to causing a debate on racism in Germany as well as the football world, Özil's case also inspired many social media users that have an immigrant background, especially German citizens, to establish their own hashtag in which they talk about the racism that they face in everyday life. Thousands of people in Germany with migrant backgrounds are sharing stories of everyday discrimination under the hashtag #MeTwo, which hopes to be a voice for immigrants as the #MeToo movement has been for the women.
The movement is founded by 24 years old Ali Can, who is a Turkish-origin German citizen, author and activist. He started the movement with a tweet in which he was pointing to the fact that he was never really considered as being from Germany although he is a German citizen. Expressing that whenever he says that he is from the Münsterland region of western Germany, people ask where he is "really" from, Can stated to Deutche Welle that racism is a problem that every migrant has to deal with in Germany.
"When I'm the only-non white person in a crowded train and the police get in, I'm the only one who is asked to show ID," tweeted Der Spiegel reporter Hasnain Kazim, as the discussion trended on German Twitter on Friday.
Malcolm Oscar Uzoma Odeh-Ohanwe, who tweets as MalcolmMusic, recounted being called "a monkey" in high school, years ago when he was a dread-locked teenager. "You're well integrated for a Turk" and "Don't you wear a headscarf?" were cited as "classic examples" of remarks endured by Twitter user Hatdische Indsche. So far, more than 10,000 Germans tweeted the hashtag, sharing their immigrant stories and prejudices they face.
source:
https://www.dailysabah.com/politics/2018/07/28/german-politician-blames-head-of-football-in-ozil-case