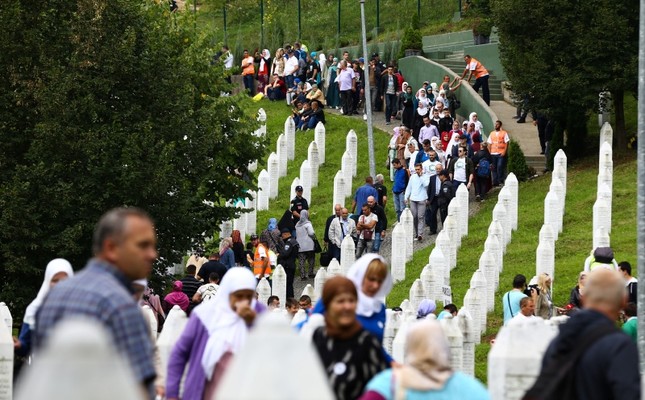 AA Photo
Thousands of people gathered Wednesday at a memorial center and cemetery in eastern Bosnia and Herzegovina's Potocari to mark the 23rd anniversary of the 1995 Srebrenica genocide.
The memorial center — just northwest of Srebrenica — is the focal point of remembrance for friends and relatives of the more than 8,000 people, mostly men and boys, murdered by Bosnian Serb militias.
Among this year's guests will be a Turkish delegation led by Justice Minister Abdülhamit Gul as well as onetime Serbian presidential candidate Cedomir Jovanovic.
Thirty-five recently identified victims will be buried in a collective funeral. Tears and silence accompanied the scene as dozens of green coffins were lined up side-by-side.
Emotional scenes ensued as relatives of the victims bid their last farewells.
"Never Forget" — a slogan born out of the Srebrenica genocide — was displayed everywhere.
After this year's funeral the number of burials in the cemetery will rise to 6,610.
Vesid Ibric, only 16 when he was killed, will be the youngest victim to be buried this year. Sahin Halilovic, the oldest, was 71.
Remzija Dudic, who was brutally murdered by Serbian troops despite being 6 months pregnant, will also be laid to rest.
Failure of 'safe area'
More than 8,000 Bosnian Muslim men and boys were killed after Bosnian Serb forces attacked the United Nations "safe area" of Srebrenica in July 1995, despite the presence of Dutch troops tasked with acting as international peacekeepers.
Srebrenica was besieged by Serb forces who were trying to wrest territory from Bosnian Muslims and Croats to form their own state.
The U.N. Security Council had declared Srebrenica a "safe area" in the spring of 1993. However, Serb troops led by General Ratko Mladic — who was convicted of genocide and war crimes charges by the International Criminal Tribunal for the former Yugoslavia (ICTY) — overran the U.N. zone.
The Dutch troops failed to act as Serb forces occupied the area, killing about 2,000 men and boys on July 11 alone. Some 15,000 Srebrenica people fled into the surrounding mountains but Serb troops hunted down and killed 6,000 of them in the forests.
So far 6,610 victims have been buried at the Potocari Memorial Centre. At last year's commemoration, 75 Srebrenica victims were interred at the site.
Every year, the remains of more victims are identified and buried in Potocari on the anniversary of the genocide.
Nearly 170 identified victims are in the Podrinje identification center in Tuzla, but largely due to incomplete remains the victims have not yet been buried.
Hundreds of Bosniak families are still searching for missing people as a large number of victims were thrown into mass graves around the country during the 1992-1995 Bosnian War.
A total of 8,400 people remain missing since the war's end, according to the Institute for Missing Persons in Bosnia and Herzegovina.
source:   https://www.dailysabah.com/balkans/2018/07/11/bosnians-mark-anniversary-of-1995-srebrenica-genocide