Source: The Guardian
By Dom Phillips in Rio de Janeiro
Critics call film a 'programmed success' as viewers in half-empty shows report being given tickets by controversial church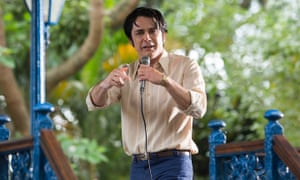 Brazil's biggest cinema hit in more than a decade is a biopic of a powerful evangelical bishop that has broken box office records.
There's just one problem: the sold-out film fails to fill cinemas.
Nothing to Lose (Nada a Perder) tells the story of Edir Macedo, the founder of the Universal Church of the Kingdom of God – a controversial and influential evangelical church that has extended its operations to 110 countries and claims nearly 10 million followers worldwide.