Source: The Guardian
BY Kate Lamb in Kayee Lee
People have started raiding, arresting and shaming anyone accused of violating the Indonesia region's militant moral laws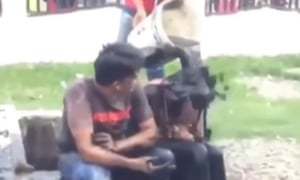 Everyone in the village saw it, either in the flesh or later when it was immortalised on YouTube. Local children even stuck their heads through the grates of a fence to watch, their attention trained on the spectacle in front of them: a young couple being doused in sewage.
Humiliated but compliant, the couple sat on the edge of a well in Kayee Lee, a village in the Indonesian province of Aceh, as the liquid ran off them in thick black streams.
By the time Roswati arrived at the scene, about 70 people had gathered to watch her son and his girlfriend being publicly shamed in the courtyard of the mosque, the village equivalent of the public square.