DAILY SABAH WITH REUTERS
ISTANBUL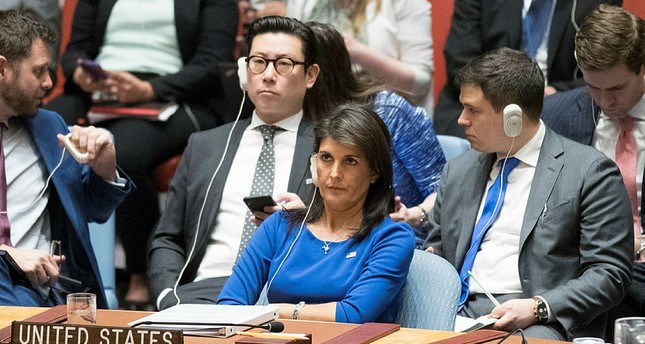 AP Photo
U.S. Ambassador to the United Nations Nikki Haley said on Sunday that the United States would not pull its troops out of Syria until its goals were accomplished.
Speaking on Fox News Sunday, Haley listed three aims for the United States: ensuring that chemical weapons are not used in any way that poses a risk to U.S. interests, that Daesh is defeated and that there is a good vantage point to watch what Iran is doing.
It is our goal "to see American troops come home, but we are not going to leave until we know we have accomplished those things," Haley said.
Haley also said the U.S. would not have any one-on-one talks with Syria's Bashar Assad.
Her remarks came a day after the U.S. and its allies conducted joint strikes against the Assad regime in response to a chemical attack in Syria's Douma, which killed over 70 civilians.
In late March, U.S. President Donald Trump made a surprise announcement, saying the U.S. would withdraw from Syria in the near future. However, statements coming from the State Department and the Pentagon raised questions on whether his remarks would translate into action.
Trump said at an event in Ohio that the U.S. will withdraw its troops from Syria very soon and let other people take care of it. "We'll be coming out of Syria very soon. Let the other people take care of it now […] We're going to have 100 percent of the caliphate, as they call it, sometimes referred to as land. We're taking it all back."
When asked about Trump's withdrawal statement, the Pentagon decided to refer to the White House, while the State Department's Heather Nauert said she was "not aware of" the decision, declining to comment further.
source:
https://www.dailysabah.com/syrian-crisis/2018/04/15/us-will-not-pull-troops-out-of-syria-until-goals-accomplished-haley