In return for protection, the Copts will vote loyally this week for a man whose secret police now dominate political life in Egypt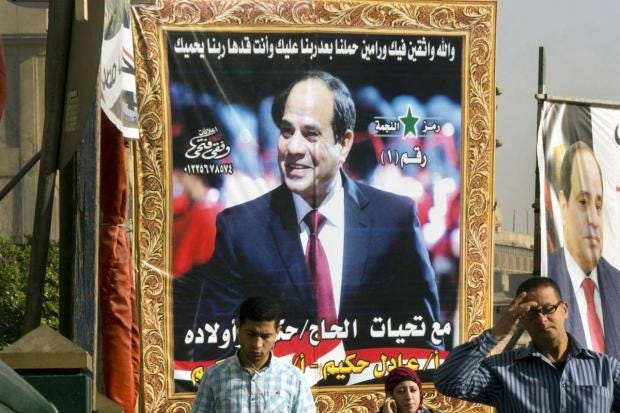 So here comes another Potemkin election for the Egyptian people. Whether the people are supposed to be fooled or the Empress Catherine herself – this time, it's Field Marshal/President Abdel Fattah al-Sisi in the role – is a good question.
In a country which has become accustomed to fake elections, fake newspapers and fake parliaments, you have to wonder at the sheer courageous, all-purpose energy of those Egyptians who will turn out to vote. And I can promise you (let us not be presumptuous or even cynical) that Sisi – of whose face his people once made chocolate cakes and candy bars, so great was their affection for him when he rid them of the meddlesome if elected Brotherhood president Mohamed Morsi – will win a vast, overwhelming and totally predictable majority.
And there's no doubt, too, that among his most faithful supporters will be – in fact, must be – the Christians of Egypt, for the Coptic Orthodox Church and its pope have shown only fealty towards the Great President who won 96.1 per cent of the vote in 2014. I say "must" because the Christians of Egypt, like the Christians of Iraq and of Syria, have a special place among the Middle East's regimes. They are a minority, and minorities always need protection. And who can give protection more securely – remember the Copts are just 8 per cent of Egyptians – than the autocrats who rule them?
MORE:   https://www.independent.co.uk/voices/egyptian-president-election-abdelfattah-alsisi-christian-coptic-vote-a8273916.html