DAILY SABAH
ISTANBUL
Published
January 7, 2018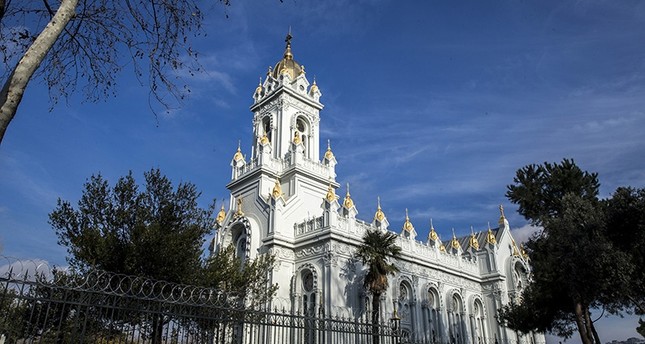 AA File Photo
The reopening of the Sveti Stefan Church after seven years of restoration costing TL 16 million should be seen as the state's obligation to protect all its citizens' right to worship, said President Erdoğan
A 19th-century church built by the Bulgarian community in Istanbul was reopened after restoration Sunday in a ceremony attended by President Recep Tayyip Erdoğan, Prime Minister Binali Yıldırım and Bulgarian Prime Minister Boyko Borissov.
President Erdoğan, speaking at the opening ceremony, said the state was responsible for ensuring that everyone, no matter their beliefs, has the right to practice their religion freely. "Certain bitter memories in history should not be allowed to taint the long history of living side by side," he said, adding that the government has been working since the beginning to restore the houses of worship of all citizens.
Sveti Stefan, also known as the "Iron Church," is known as the only church mainly made of iron in the world, and restoration started seven years ago in a project co-funded by Turkey and Bulgaria. The church is located in Balat, a historic neighborhood on the shore of Istanbul's Golden Horn. Speaking to İhlas News Agency, Vasil Liaze, head of a foundation overseeing the church, said the restoration cost TL 16 million ($4.3 million) and the Turkish state covered TL 15 million of the budget.
The president noted that Turkey had supported the restoration of more than 5,000 historical artifacts in the Middle East, North Africa, South Asia and the Balkans in the past 15 years. "We do not separate freedom of worship in the Iron Church from the freedom of worship in the the Muradiye Mosque in Filibe [Plovdiv]. That is why my friend Boyko bringing Bulgaria's Chief Mufti Mustafa Aliş to this ceremony is important."
SOURCE:
https://www.dailysabah.com/istanbul/2018/01/07/iconic-istanbul-church-reopens-after-7-years-of-restoration