Syria cannot countenance Kurdish presence on its territory and Turkey cannot tolerate a Kurdish enclave along its southern border, however secular, liberal and socialist it claims (not without reason) to be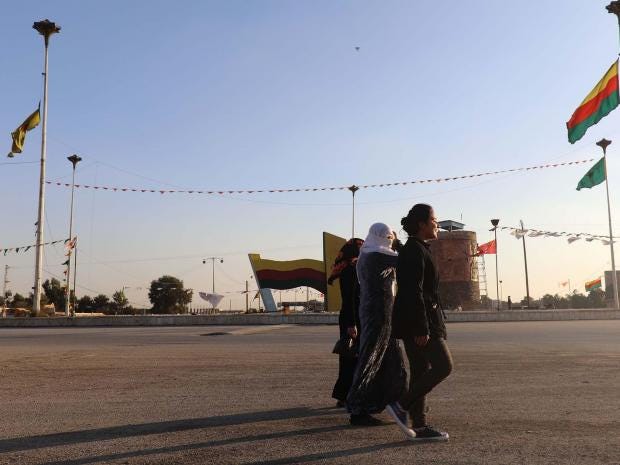 Colonel Thomas Veale has had the unenviable task of announcing the first official Western attempt to partition Syria on ethnic-sectarian lines. Whether or not he realises the implications of his extraordinary statement a few days ago, Colonel Veale – a Kansas University and US Military Academy graduate who rejoices in the title of "Public Affairs Director at Combined Joint Task Force, Operation Inherent Resolve" – was quite open about the creation of another new and largely Kurdish force which will, in theory, control tens of thousands of square kilometres of Syria. Arab members of the same 30,000-strong "Border Security Force" will man checkpoints further south along the Euphrates river valley.
To quote the good colonel, "recruiting is done in such a manner as to build a force reflecting the populations they serve; both in gender and ethnicity". And there you have it. The Kurds will look after the Kurds, the Arabs (largely Sunnis, though there aren't many of them) will run the non-Kurdish bits of this new enclave which will, in the north, run right along the Turkish border – an invitation to further civil war, if ever there was one.
For an indication of just how equivocal this US decision is, we only have to witness the unprecedented if brief alliance it has created between the Syrian regime – anxious to regain every square foot of the nation which was under attack by Isis, al-Qaeda and various Western and US-armed military outfits for the past seven years – and Turkey, which has over exactly the same period been trying to overthrow Syrian President Bashar al-Assad. Recep Tayip Erdogan has promised to "suffocate" this latest American proxy "terror army", regarding it as a Kurdish force effectively controlled by the "terrorist" Kurdish Workers Party, the PKK. Assad's government called the enlistment of the new militia a "blatant assault" on Syria's sovereignty. Russia warned of partition.
Unfortunately for Colonel Veale, Turkey is right to suspect that the PKK controls local Kurdish fighters, Assad is correct in identifying the "Border Security Force" as an attack on Syria's sovereignty – whoever rules the state itself – and Russia, no stranger to the partition of the Ukraine, knows how to recognise similar US skulduggery. Its origins go back to the start of the war, when the local Kurdish "People's Protection Units" (YPG) were encouraged by the authorities in Damascus to oppose Isis, al-Qaeda (later Nusrah) and other jihadi groups who were trying to seize the Syrian state. The Syrian army handed the YPG thousands of weapons to defend themselves. In the early days, Assad himself even praised the Kurds for resisting the "terrorist" forces of Isis and al-Qaeda.
MORE:   http://www.independent.co.uk/voices/syria-kurds-kurdish-turkey-border-security-force-war-on-the-horizon-a8165746.html