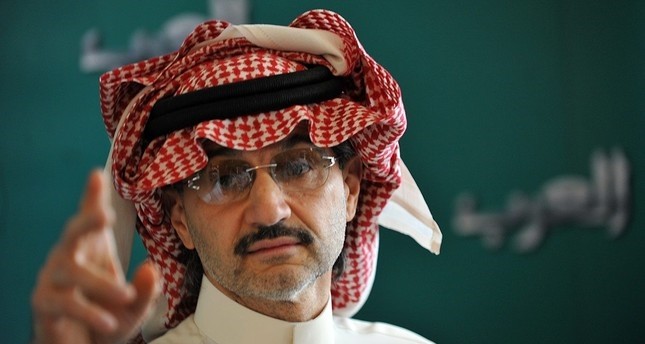 File Photo of Saudi tycoon Prince Alwalid bin Talal
Saudi Arabian authorities demanded at least $6 billion from Prince Alwaleed bin Talal in exchange for his release, the Wall Street Journal reported Saturday, citing people familiar with the matter.
According to the report, the Saudi tycoon, who was arrested as part of the purge in early November, is negotiating with the Saudi government. A regular on the Arab world's richest list with an estimated net worth of $18.7 billion, Alwaleed will need to liquidate a large portion of his assets in Kingdom Holding Co.
The company holds major stakes in Fox, Time Warner, Citigroup, Twitter, Apple, Motorola and many other well-known companies and has a market value of almost $9 billion.
Dozens of high-profile figures including princes, ministers and tycoons are being held in Riyadh's Ritz-Carlton hotel, now a makeshift luxury prison, in the biggest sweep of the kingdom's elite in its recent history.
Some 320 people were called in for questioning and 159 people are currently being detained, many of whom have agreed to a "settlement," or handing over allegedly ill-gotten gains to the Saudi state treasury, attorney general Sheikh Saud al-Mojeb said.
Some analysts saw the arrest of high-profile figures as an attempt by Crown Prince Mohammed bin Salman, who is also Saudi defense minister, to consolidate his control over the security services.
But Saudi authorities insist the purge was meant solely to target endemic corruption as the kingdom seeks to diversify its oil-dependent economy.
In a recent interview with The New York Times, Prince Mohammed described the reports "ludicrous" that equated the crackdown to a power grab, saying many of those detained at the opulent Ritz-Carlton had already pledged allegiance to him.
The attorney general said the bank accounts of 376 people have been frozen, all of whom are detained or linked to corruption allegations.
Saudi forces also grounded private jets at airports, possibly to prevent high-profile figures from leaving the country, an aviation source told AFP.
The purge has triggered uncertainty among businesses that it could lead to capital flight or derail reforms, experts say, at a time when the kingdom is seeking to attract badly-needed investments to offset a protracted oil slump.
SOURCE:   https://www.dailysabah.com/mideast/2017/12/23/saudi-authorities-demand-one-third-of-alwaleed-bin-talals-fortune-to-free-him