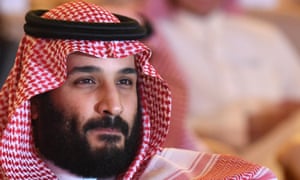 Saudi Arabia's crown prince, Mohammed bin Salman, has vowed to return the country to "moderate Islam" and asked for global support to transform the hardline kingdom into an open society that empowers citizens and lures investors.
In an interview with the Guardian, the powerful heir to the Saudi throne said the ultra-conservative state had been "not normal" for the past 30 years, blaming rigid doctrines that have governed society in a reaction to the Iranian revolution, which successive leaders "didn't know how to deal with".
Expanding on comments he made at an investment conference at which he announced the launch of an ambitious $500bn (£381bn) independent economic zone straddling Saudi Arabia, Jordan and Egypt, Prince Mohammed said: "We are a G20 country. One of the biggest world economies. We're in the middle of three continents. Changing Saudi Arabia for the better means helping the region and changing the world. So this is what we are trying to do here. And we hope we get support from everyone.
"What happened in the last 30 years is not Saudi Arabia. What happened in the region in the last 30 years is not the Middle East. After the Iranian revolution in 1979, people wanted to copy this model in different countries, one of them is Saudi Arabia. We didn't know how to deal with it. And the problem spread all over the world. Now is the time to get rid of it."
Earlier Prince Mohammed had said: "We are simply reverting to what we followed – a moderate Islam open to the world and all religions. 70% of the Saudis are younger than 30, honestly we won't waste 30 years of our life combating extremist thoughts, we will destroy them now and immediately."
The crown prince's comments are the most emphatic he has made during a six-month reform programme that has tabled cultural reforms and economic incentives unimaginable during recent decades, during which the kingdom has been accused of promoting a brand of Islam that underwrote extremism.
read more here:   https://www.theguardian.com/world/2017/oct/24/i-will-return-saudi-arabia-moderate-islam-crown-prince