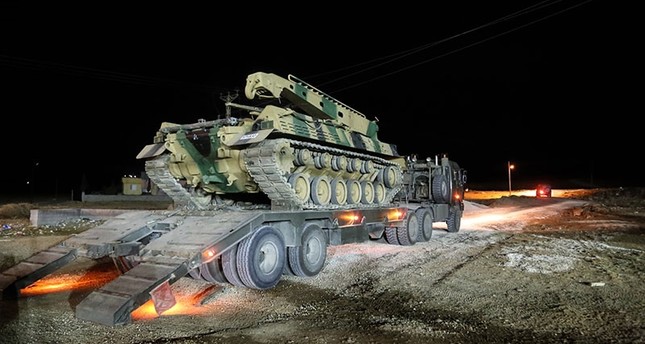 AA Photo
Turkish military units have started expeditionary activities in Syria's Idlib in line with the de-escalation zone deal agreed by Astana parties, the Armed Forces (TSK) said in a statement Monday.
The statement published on TSK's website stated that the military elements that will take part in the monitoring force have started their expedition as of Oct. 8, 2017, to establish monitoring sites during the operation.
The statement said the goals of the de-escalation zones, which were declared Dec. 30Dec. 30, 2016, and guaranteed by Turkey, Russia and Iran through the Astana process, aim to increase the effectiveness of the cease-fire regime, ending armed clashes, providing humanitarian aid to those in need, establishing proper conditions for the return of the displaced and supporting the establishment of conditions for a peaceful resolution of the conflict.
It added that TSK elements will be carrying out their duties through the rules of engagement agreed by guarantor countries.
Control in the Idlib region is divided into two between moderate opposition groups and al-Qaida affiliated coalition of Hay'at Tahrir al-Sham (HTS), which rejects the Astana process and is excluded by parties to Astana.
The operation aims to clear HTS from the region in order to maintain the cease-fire.
Turkey also aims to contain the Afrin region, which is controlled by the Democratic Union Party (PYD), PKK terrorist group's offshoot in Syria, and its armed wing People's Protection Forces (YPG).
The operation is the second Turkish incursion in Syria. The first operation, named Euphrates Shield, was launched Aug. 24, 2016, backing the Free Syrian Army (FSA) forces to clear Daesh from Turkey's borders and establish a buffer zone for security purposes and preventing further migrant influx.
The operation recaptured several towns, including Jarablous, al-Rai, Dabiq and al-Bab, while securing the town of Azaz, a main refugee center in northern Syria right across the border with Turkey. The operation also prevented the PYD to take control of the area in its bid to connect Afrin region with the territories it control in Manbij, Kobani and further east in Hassakah and Qamishli.
In the operation, Daesh strongholds were defeated and more than 2,000 square kilometers of territory in northern Syria was seized from the terrorists. More than 100,000 Syrian refugees were relocated back to their hometowns in the liberated areas
SOURCE:   https://www.dailysabah.com/war-on-terror/2017/10/09/turkish-military-crosses-the-border-into-syrias-idlib-to-enforce-de-escalation-agreement