Source: The Guardian
BY Saeed Kamali Dehghan Iran correspondent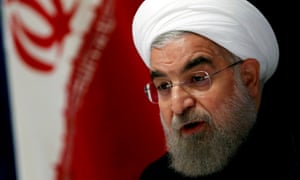 Iran's president is under pressure to appoint female ministers as he mulls a cabinet reshuffle before his swearing-in ceremony on Sunday.
Hassan Rouhani's all-male list of ministers during his first term in office dismayed his base even though the moderate cleric appointed a number of women as vice-president, a comparatively less senior position in Iran's political hierarchy.
As jockeying intensifies before the unveiling of his new cabinet, concerns have grown that Rouhani may give in to pressure from hardliners and not include women as ministers. Expectation is particularly high because he ran on a reformist agenda. Under the Iranian constitution, the Majlis (parliament), would have to approve his appointees.
Tehran is preparing for a big inauguration ceremony after Rouhani's landslide victory in May. Officials have declared Sunday a bank holiday as eight presidents and senior diplomatic delegations gather in the Iranian capital to mark the beginning of his second term in office. In a sign of thawing relations, the UK is for the first time sending a minister of state, Alistair Burt, who is in charge of the Middle East and North Africa at the Foreign Office.