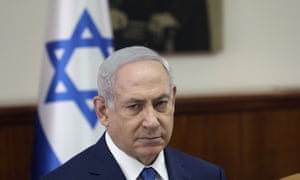 Israel's prime minister, Benjamin Netanyahu, has reportedly been forced to order his ministers to attend the airport reception for Donald Trump on Monday, after discovering that a number had planned not to attend.
According to reports in the Israeli media, an angry Netanyahu was informed on Sunday that party heads and a number of ministers planned to skip the reception after the White House had asked for the meet and greet to be shortened to the two countries' anthems and handshakes only between Netanyahu and Trump.
Haaretz, the Times of Israel and the Jerusalem Post all carried stories, some quoting an identified Israeli government official on the instruction from Netanyahu, amid claims that ministers had been upset at not being included in the receiving line on the airport tarmac.
The row is the latest in a series of controversies to hit the planned visit of the US president, which officials in Israel have privately characterised as often haphazard.
Trump will arrive for the whirlwind visit to Israel and to the occupied Palestinian territories on Monday, amid mounting questions over what – if any – practical steps he will take to advance his "ultimate peace deal" between the two sides.
Overshadowed by the escalating scandals surrounding him, the US president will meet Netanyahu and the Palestinian president, Mahmoud Abbas, during 26 hours of events.
MORE:   https://www.theguardian.com/world/2017/may/21/angry-netanyahu-orders-ministers-attend-trump-israeli-arrival