FRENCH PRESS AGENCY – AFP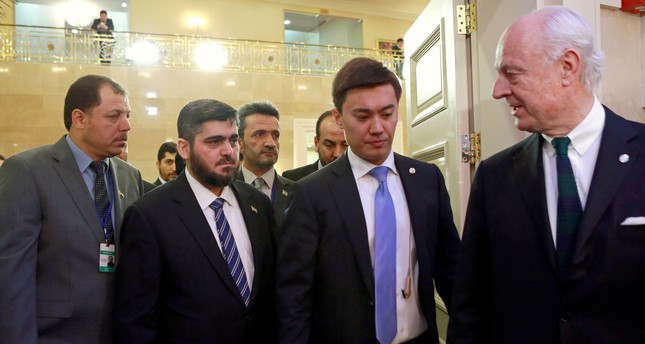 UN Special Envoy Staffan de Mistura (R) and Mohammed Alloush, the Syrian leader of the opposition delegation (L-2) arrive for talks on the Syrian conflict, Astana, Kazakhstan, 23 January 2017. (EPA Photo)
Syrian opposition members vowed Monday to keep fighting if the peace talks fail with the war-torn country's regime in Kazakhstan, as the two sides opened indirect negotiations.
The talks had been billed as the first time armed opposition groups would negotiate directly with Bashar al-Assad's regime since the conflict erupted in 2011.
"If the negotiations succeed, then we are with the negotiations," opposition spokesman Osama Abu Zeid said. "If they don't succeed, unfortunately we'll have no choice but to continue fighting."
The opposition members' announcement came as Russia's defense ministry said its warplanes had bombed the Islamic State group in the area around Deir Ezzor in eastern Syria, where regime forces have been fighting the jihadists.
MORE:    http://www.dailysabah.com/syrian-crisis/2017/01/23/syria-opposition-vows-to-keep-fighting-if-astana-talks-fail