Sun Mar 12, 2023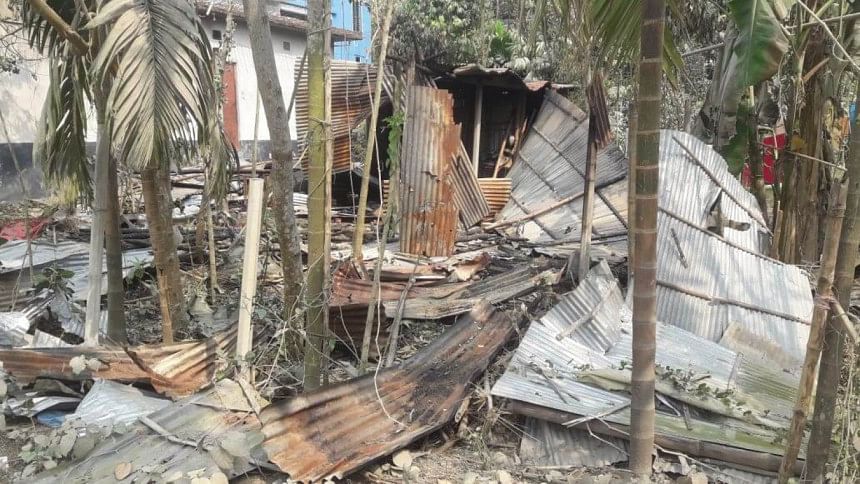 Photo: Quamrul Islam Rubaiyat
Several hundred people of the Ahmadiyya community, who came under attacks by fundamentalists in Panchagarh, are still homeless nine days after the violence.
Many of them are passing days amid untold sufferings at a local education institution, Jameya Ahmadiyya Bangladesh, and local mosques.
Some others have taken shelters to their relatives' houses in neighbouring districts.
Most of the victims said they were not solvent enough to rebuilt their houses within a very short span of time.
Those, who have financial abilities, are not repairing their houses fearing further attacks.
Visiting the spot yesterday, this correspondent found arson-ravaged houses to be lying vacant.
"The attackers have damaged our home so badly that it is not possible to repair. We will have to rebuilt it. But we don't have enough money," said Tajmahal Begum, 65, of Phultola village.
She and her freedom fighter husband Mohammad Hanif were now staying at Jameya Ahmadiyya Bangladesh in Ahmadnagar village with other family members.
"We live from hand to mouth. How can we repair our house?" question Md. Osman, of Ahmadnagar Dangapara village, whose house was burnt to ashes.
Osman and his family members were staying at their relative's house in Dinajpur.
Nasrin Begum, 25, of Shalsheri village, said her family members pass daytime by roaming around the village and go to Jameya Ahmadiyya Bangladesh premises after evening to stay at night.
"We neither have money nor any assistance from the government to repair our house. We don't know how long we will have to endure such untold sufferings," she said.
Tanveer Ahmad Tarun, 34, of Phultola village, is one of the solvent persons in the Ahmadiyya community.
"I can repair my house. But who will guarantee us that no such attack will be carried out again? Now, we don't have the courage to rebuild our house," he said.
Contacted, Jahurul Islam, deputy commissioner of Panchagarh, said, "As per our assessment, a total of 195 houses were affected during the violence. We have already demanded budgetary allocation to our higher authorities for repairing the houses."
Meanwhile, police arrested eight people between Friday night and early yesterday, raising the total number of arrestees to 181 in connection with the attacks.
On March 3, two people were killed and at least 30 others, including seven policemen, injured in a clash between law enforcers and supporters of Islamist organisations demonstrating against the Ahmadiyya community demanding cancellation of the three-day-long Jalsa Salana, an annual gathering of the members of the Ahmadiyyas.
The agitators set fire to many houses and four shops belonging to Ahmadiyyas in three villages — Ahmadnagar, Phultola and Shalshiri– in Panchagarh Sadar.
They also attacked a local police station, vehicles of law enforcers and a traffic police office.
source https://www.thedailystar.net/news/bangladesh/news/ahmadiyyas-still-homeless-panchagarh-3268751