MENA Qassam Muaddi West Bank 02 November, 2021
Residents of Sheikh Jarrah affirmed they were refusing the Israeli court's deal proposal 'without any guarantees'
The Israeli court had given residents until 6 November to respond to the deal proposal [Getty]
Palestinian residents in the Jerusalem neighbourhood of Sheikh Jarrah have collectively refused a property settlement proposition made by the Israeli court earlier in October.
Residents said in a statement: "This refusal stems from our conviction in our right to our homes and our land, despite the absence of any concrete guarantees to ensure our Palestinian existence in Jerusalem, by anybody."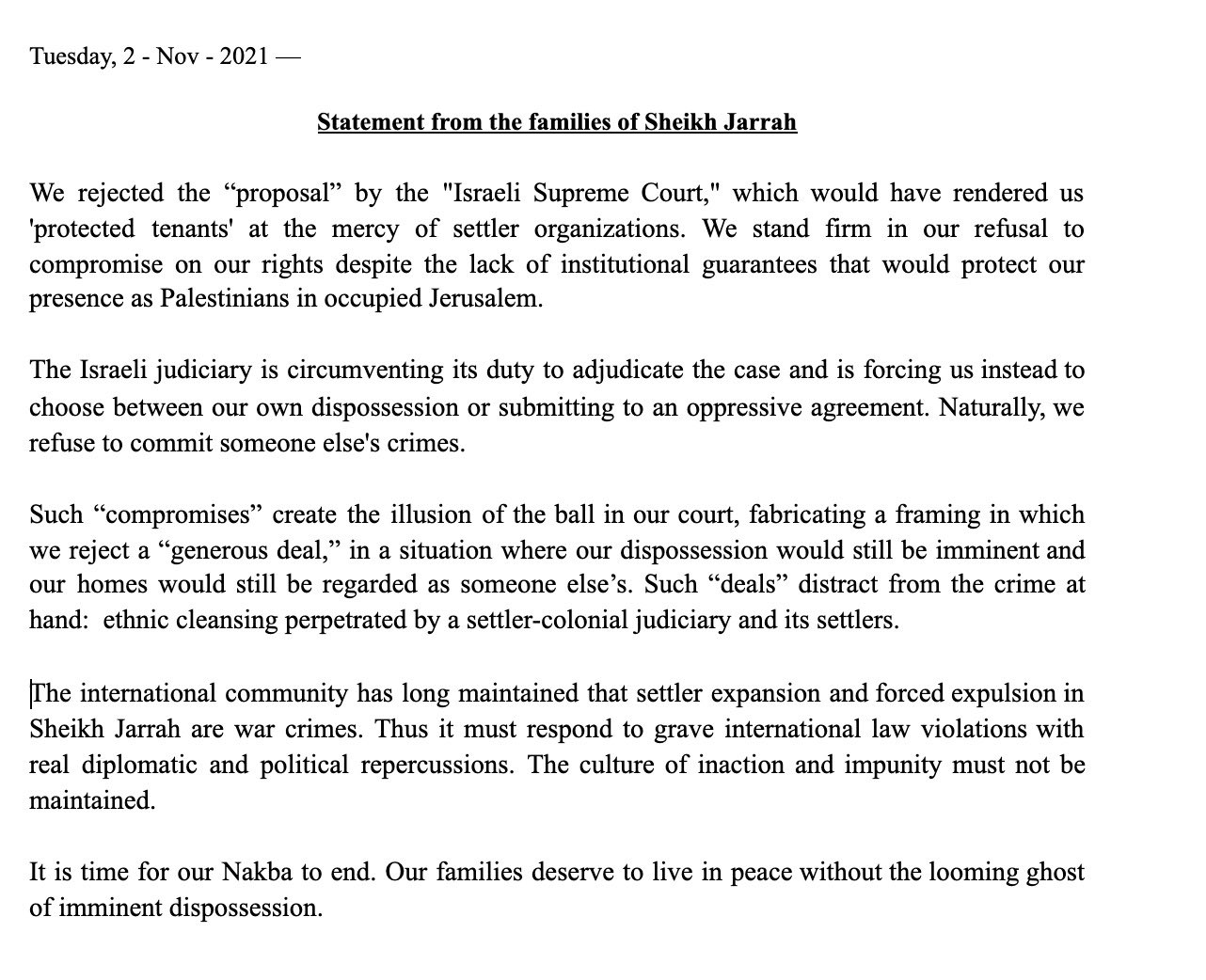 The Israeli court's proposition offered residents a "protected tenants" status for 15 years when a "property settlement" would take place.
According to the proposition, all eviction orders against Palestinian residents would be overruled for the next 15 years on the condition of the residents paying a monthly rent to the Israeli "Nehlat Shimon" association.
The Israeli court had given residents an ultimatum until 6 November to accept or refuse the deal.
The residents' statement considered that the deal "would gradually prepare for the confiscation of our right in our land".
One of the residents and a member of the neighbourhood council, Hashem Salaymeh, told The New Arab that "had we accepted to pay a rent to the settlers, we would have recognised their claim to ownership of our homes, and the property-settlement would inevitably end in their favour".
'A stronger case'
Salaymeh pointed out that settlers obtained disputed property papers from the Israeli court when the Jordanian authorities didn't provide documents proving their ownership. "Now that we have these documents, we have a much stronger case," Salamyeh said.
In April, Amman supplied the Palestinian Authority with a series of documents proving that the Jordanian government had started to transfer ownership of the properties in Sheikh Jarrah to Palestinian families resident there, who had arrived as refugees in 1948.
The documents show that the 1967 war and subsequent Israeli occupation of Eastern Jerusalem interrupted the property transfer.
Israeli settlers claim the property based on an Israeli law that allows any Jewish Israelis to claim any property owned by Jewish residents before 1948.
Turkish authorities have also declared that papers showing Jewish ownership of the land, supposedly dating back to the Ottoman era, are nowhere to be found in their archives.
Salaymeh said that the Israeli court tried to pressure a number of families in the past days, telling them that if they don't accept the deal, the court would "take unknown steps", insinuating eviction.
The residents' statement said: "Forcing us to choose between eviction and an unjust agreement is a colonial policy aiming at breaking our social solidarity.
"The international community [should] assume its responsibility and stop Israeli authorities from expelling us from our neighborhood, which we have inhabited and defended for generations."
source https://english.alaraby.co.uk/news/palestinians-sheikh-jarrah-refuse-israeli-deal