GERMAN PRESS AGENCY – DPA
ROME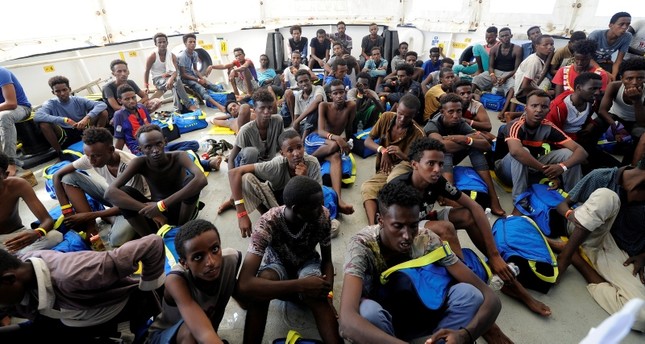 Migrants rest after being rescued by SOS Mediterranee organisation and Doctors Without Borders during a search and rescue (SAR) operation with the MV Aquarius rescue ship in the Mediterranean Sea, August 10, 2018. (REUTERS Photo)
Britain should take in 141 migrants aboard a charity-run rescue boat because the vessel is registered in the British holding of Gibraltar, Italian Transport Minister Danilo Toninelli said Monday.
The Aquarius, run by SOS Mediterranee and Doctors Without Borders, picked up the migrants off the coast of Libya on Friday.
"The boat is now in Maltese waters and has a Gibraltar flag. At this point, the United Kingdom should take responsibility for the safeguarding of the shipwrecked," Toninelli wrote on Twitter.
Since it took office on June 1, Italy's new populist government has closed its ports to migrant rescue non-governmental organizations (NGOs), and called for all migrants caught at sea to be sent back to Libya or other EU nations.
On Sunday, SOS Mediterranee and MSF said the Libyan coastguard coordinated their rescue activities, but refused to tell them where they could take the migrants.
They also said that rescued migrants "told our teams that they encountered five different ships which did not offer them assistance before they were rescued by Aquarius."
According to the NGOs, 70 per cent of the migrants hail from Somalia and Eritrea and "many" are "extremely weak and malnourished" and "report that they were held in inhumane conditions in Libya.
source:
https://www.dailysabah.com/europe/2018/08/13/italy-says-britain-should-take-in-gibraltar-flagged-rescue-boat-carrying-141-migrants