Source: The Guardain
BY Kate Lamb in Jakarta
Nation's two largest Islamic organisations will call on network of 100 million followers to reduce plastic waste and reuse bags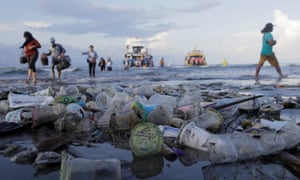 The government has announced it will join forces with the country's two largest Islamic organisations, Nahdlatul Ulama (NU) and Muhammadiyah, using their extensive networks across the world's largest Muslim-majority nation to encourage consumers to reduce plastic waste and reuse their plastic bags.
Together the two Islamic institutions have more than 100 million followers.
As part of the initiative, religious leaders will visit prayer groups across the country to preach about the importance of reducing plastic waste, explain how plastic waste can worsen the severity of natural disasters such as floods and landslides, and encourage consumers to switch to traditional bags, made from materials such as rattan and bamboo.