Guardian: For decades, Haifa has been Israel's model of what a 'mixed' Jewish-Arab city could be. But as the country's 70th anniversary nears, the strain is showing.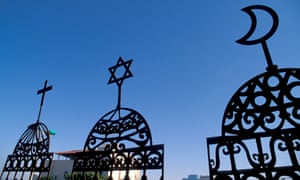 Ben-Gurion Boulevard climbs from the bustling port on Haifa's Mediterranean shore up Mount Carmel towards the famous Bahai shrine, its gleaming golden dome surrounded by lush terraced gardens. On the south side of the palm-lined road, on a spring lunchtime, the Fattoush restaurant is packed with customers chatting noisily in Arabic and Hebrew over Levantine and fusion salads, cardamom-flavoured coffee and exquisite Palestinian knafeh desserts.
Fashionable eateries like Fattoush are one reason why Israel's third largest city and its biggest "mixed" one, as officially classified, is held up as a model of Jewish-Arab coexistence. Not everyone agrees with the concept, of course, and the "c" word is often qualified, placed in inverted commas, or simply dismissed as propaganda. Official figures say Arabs make up 14% of Haifa's 280,000-strong population; unofficial estimates are closer to 18%, swelled by students and commuters from nearby Galilee. Public spaces, at least, are open to all. And the ever-present Israeli-Palestinian conflict is, usually, softer-edged than elsewhere in the country.
"I prefer to talk of shared existence rather than coexistence," says Yona Yahav, the veteran Jewish mayor. "Haifa's Jews and Arabs are the same Jews and Arabs as in Jerusalem, but here things work in a stable way."