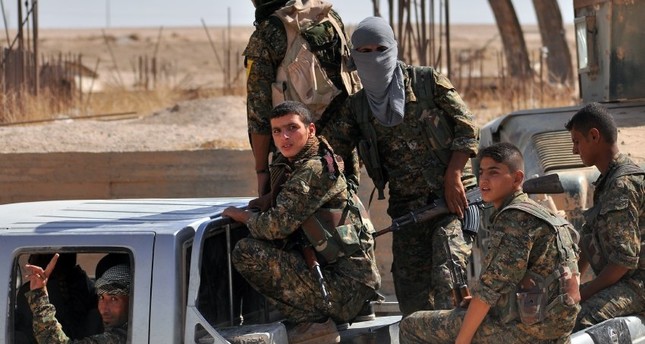 AFP Photo
The United States-led military coalition against Daesh has dismissed the allegation that dozens of former Daesh members and officials had joined the Syrian Democratic Forces (SDF) and the People's Protection Units (YPG) had tortured two civilians to death in Manbij.
"No, the allegations… are not true. The mission of the Coalition and our SDF partners is to kill or capture Daesh terrorists, not to recruit them," the coalition said via email on Monday.
The Syrian Observatory for Human Rights alleged last week that more than 120 members of Daesh militants, which include commanders in the Deir el-Zour countryside as well as security and military officials, have been recently admitted to the YPG-led SDF.
The reports saying that the SDF had been releasing hundreds of former Daesh fighters in order to stabilize the towns it controls have been proven to be true but any credible allegation that the SDF is recruiting them has yet to surface.
The coalition said Daesh was still attempting to re-establish its regional networks and that it remains a regional and global threat as the fight against the group continues in eastern Syria.
Tensions have also been running high in YPG-held areas since last week. The YPG, the leading group within the SDF, is also the Syrian armed wing of the terror group PKK.
Syrian activists called on shopkeepers in Syria's northern town of Manbij to close down businesses in the weekend, in protest of the alleged killing of two civilians by the YPG.
Hundreds protested against the YPG on Friday following the discovery of the bodies of Hannan al-Jarivah, 25, and Abbud al-Minkhan, 23, who are believed to have been tortured to death by YPG militants. The bodies of the two young men, with one's head cut off, were found in a village some 20 kilometers (12 miles) east of Manbij, according to an Anadolu Agency report.
The coalition press office, in a separate email on Sunday, said that it wasn't aware of any confirmed reports of the alleged violations.
"We emphatically condemn any such violations, and work with our partner forces to ensure that these violations do not occur," the coalition said.
The statement also warned U.S. partner forces that the aid was predicated upon their acting in accordance with the Law of Armed Conflict and Geneva Convention, "and units found in violation of either are subject to having Coalition support withheld."
In November, business owners in Manbij staged a general strike to protest the forcible recruitment of young people by the YPG.
An Arab-populated city located on the west bank of the Euphrates river, Manbij remains under the control of the YPG, the Syrian offshoot of the PKK terrorist group, which has waged a war against Turkey for more than 30 years.
The PKK — listed as a terrorist organization by the U.S. and the EU as well as Turkey — resumed its armed campaign in July 2015. Since then, it has killed more than 1,200 Turkish security personnel and civilians, including women and children
SOURCE:   https://www.dailysabah.com/mideast/2018/01/15/us-led-coalition-denies-report-that-ex-daesh-militants-joined-sdf