Source: The Guardian
By Dan Collyns in Lima and Piotr Kozak in Santiago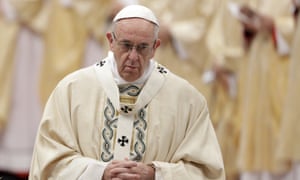 Pope Francis leaves Rome this weekend for a tour of Chile and Peru amid renewed accusations that he is failing to tackle allegations of clerical sexual abuse after scandals in both countries.
The visit comes as the pope seeks to shore up the Catholic church faith against the loss of followers in two of South America's most conservative nations.
During the week-long visit, the pope will also travel to the Amazon city of Puerto Maldonado in Peru, where he will meet indigenous leaders and is expected to expand on the environmental message of his 2015 encyclical on climate change .