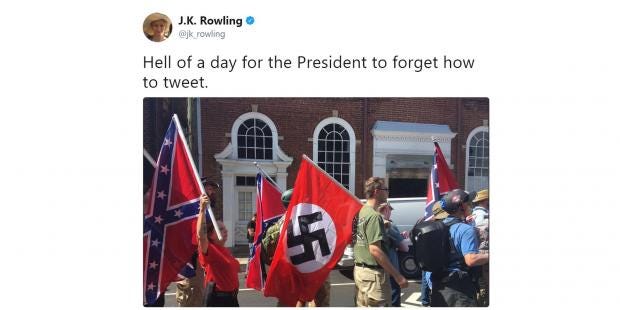 White supremacist protesters clutching Nazi flags and screaming the Nazi-linked chant 'blood and soil' have stormed the city of Charlottesville, Virginia today. 
Violence broke out at the 'Unite the Right' rally, with officials having now declared a state of emergency.
Attempts to disperse the white supremacists and anti-fascist protestors continues to prove difficult, with fights breaking out between the two groups and against riot police.
READ MORE HERE:   https://www.indy100.com/article/jk-rowling-charlottesville-far-right-rally-donald-trump-tweeting-response-nazi-reply-7890321?utm_source=indy&utm_medium=top5&utm_campaign=i100