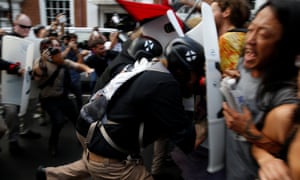 Violent clashes erupted between far-right nationalists and counter-protesters in Charlottesville, Virginia, prompting the governor to declare a state of emergency.
The unrest came ahead of scheduled a "Unite the Right" rally at the city's Emancipation Park as fighting and scuffles broke out between the two groups.
Several people have been hurt and there have been a number of arrests.
The governor of Virginia, Terry McAuliffe, declared a state of emergency, while the US president, Donald Trump, tweeted a condemnation of violence related to the scenes in Charlottesville.
MORE:   https://www.theguardian.com/us-news/2017/aug/12/virginia-unite-the-right-rally-protest-violence