Source: The Guardian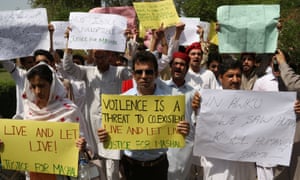 A 10-year-old boy has been killed and five other people wounded after a mob attacked a police station in an attempt to lynch a Hindu man charged with blasphemy in south-west Pakistan, officials said. It was the third major vigilante attack linked to accusations of insulting Islam in less than a month, as law enforcement agencies struggle to deal with a surge in violence.
Thursday's incident occurred in the town of Hub in the restive province of Balochistan following the arrest of Prakash Kumar, a 34-year-old member of the country's Hindu religious minority. Kumar, a crockery shop owner, was detained on Tuesday for allegedly posting an incendiary image on social media.
"When news of his arrest was published in local newspapers on Thursday, a crowd of some 500 people, including traders, clerics and politicians, surrounded the town's police station to demand he be handed over," police official Abdul Sattar told Agence France-Presse.
When police refused, the mob turned on them, beating up officers and local government officials before firing guns. The 10-year-old boy died and five others were wounded in the melee, he added.