FRENCH PRESS AGENCY – AFP
BEIRUT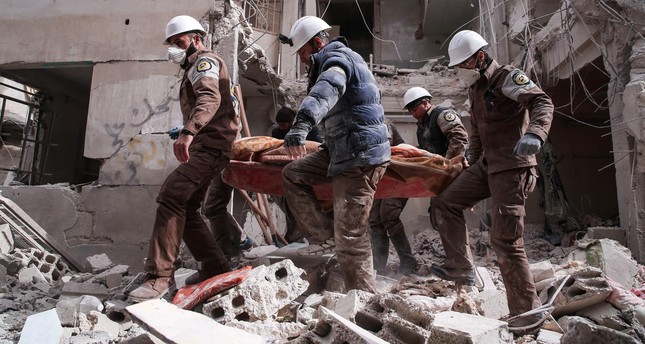 Syrian civil defense volunteers, known as the White Helmets, search for survivors following regime airstrike on the opposition-held neighbourhood of Tishrin on Feb. 22, 2017. (AFP PHOTO)
Rescue workers from Syria's White Helmets group — the subject of an Oscar-nominated documentary — will not attend this weekend's Academy Awards ceremony because of intensified Assad regime bombing, their leader said Saturday.
"I am not going because of our workload due to intensified regime strikes on the provinces of Damascus, Daraa and Homs," Raed Saleh said.
"There are many things that have to be done on the ground, such as managing operations and providing emergency vehicles," he said.
Saleh and fellow White Helmet member Khaled Khatib had been set to attend Sunday's ceremony in Hollywood, where "The White Helmets" is shortlisted for best short documentary.
Istanbul-based Khatib, who shot much of the footage, also confirmed that he would not attend the ceremony, despite obtaining an American visa.
"I won't travel to OSCAR due to intensity of work, our priority is helping our people," he tweeted in English on Saturday.
"I was going to leave on Tuesday, but there was too much work because of the bombing," Khatib told AFP by telephone.
"I'm also working on producing another film about the White Helmets that has to be ready in two weeks. I will not go."
more:   https://www.dailysabah.com/syrian-crisis/2017/02/25/syrias-white-helmets-rescuers-will-not-attend-oscars-due-to-heavy-regime-bombing