COMPILED FROM WIRE SERVICES
ISTANBUL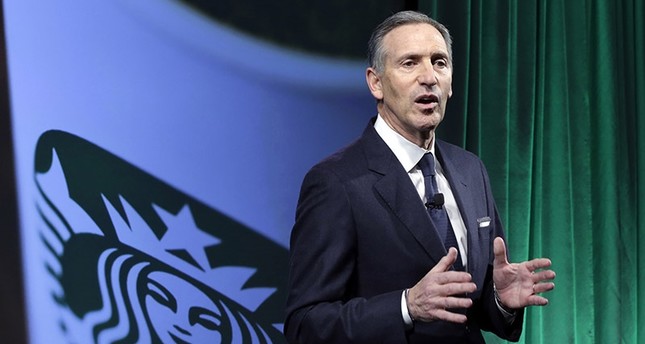 In this Dec. 7, 2016, file photo, Starbucks Chairman and CEO Howard Schultz speaks during the Starbucks 2016 Investor Day meeting in New York. (AP Photo)
Starbucks says it will hire 10,000 refugees over the next five years, a response to President Donald Trump's indefinite suspension of Syrian refugees and temporary travel bans that apply to six other Muslim-majority nations.
Howard Schultz, the coffee retailer's chairman and CEO, said in a letter to employees Sunday that the hiring would apply to stores worldwide and the effort would start in the United States where the focus would be on hiring immigrants "who have served with U.S. troops as interpreters and support personnel."
"I write to you today with deep concern, a heavy heart and a resolute promise," Howard Schultz said in a letter to employees posted on the company's website.
"We are living in an unprecedented time, one in which we are witness to the conscience of our country, and the promise of the American Dream, being called into question."
Schultz, a Democratic Party supporter, said that Starbucks had been in contact with employees affected by the new Republican president's executive order signed Friday.
The decree suspends the arrival of all refugees for at least 120 days, Syrian refugees indefinitely and bars citizens from Iran, Iraq, Libya, Somalia, Sudan, Syria and Yemen for 90 days.
The CEO said the refugee hires would be fleeing war, persecution and discrimination in the 75 countries where the company operates.
MORE:   http://www.dailysabah.com/americas/2017/01/30/starbucks-to-hire-10000-refugees-worldwide-over-next-5-years-after-trump-ban