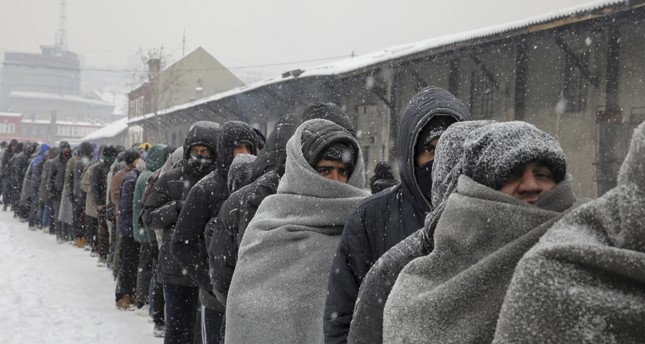 Refugees wait in line to receive a plate of free food during a snowfall outside a derelict customs warehouse in Belgrade, Serbia, Jan. 11.
Europe's recent cold spell left refugees and migrants in dire conditions and governments must do more to help them rather than push them back from their borders and subject them to violence, the U.N. refugee agency UNHCR said on Friday. "Children are particularly prone to respiratory illnesses at a time like this. It's about saving lives, not about red tape and keeping to bureaucratic arrangements," Sarah Crowe, a spokeswoman for the U.N. children's agency UNICEF said at a briefing in Geneva. "The dire situation right now is Greece." UNHCR spokeswoman Cecile Pouilly cited five deaths so far from cold weather and said that about 1,000 people, including children, were in unheated tents and dormitories on the Greek island of Samos, calling for them to be transferred to shelter on the mainland.
Hundreds of others had been moved to better accommodation on the islands of Lesbos and Chios in the past few days.
more:
http://www.dailysabah.com/europe/2017/01/14/un-alarmed-at-migrants-dying-of-cold-dire-situation-in-europe