DAILY SABAH WITH ANADOLU AGENCY
ISTANBUL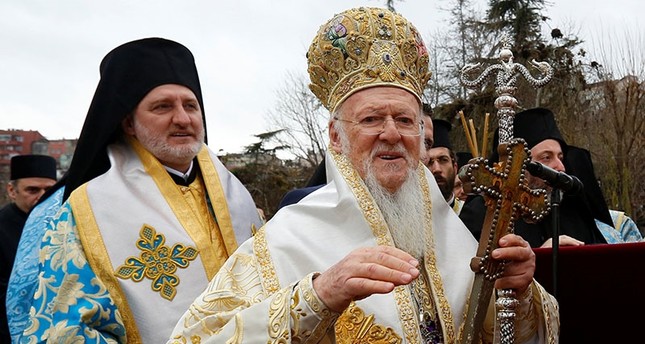 Greek Orthodox Ecumenical Patriarch Bartholomew I leads the Epiphany ceremony in Istanbul, Turkey, January 6, 2017. (Reuters Photo)
In the freezing waters of Bosporus, far from the typically warm Middle East where Jesus Christ emerged, the faithful braved the cold to mark his baptism on Friday.
The Orthodox community in Istanbul led by the Fener Greek Orthodox Patriarchate first flocked at the historic Hagia Yorgi Church of the patriarchate to celebrate the day of the birth and baptism of Jesus Christ for a mass led by Patriarch Bartholomew.
After the solemn occasion, which was attended by a number of dignitaries including Greek Deputy Foreign Minister Ioannis Amanatidis, the faithful streamed into a dock in the Golden Horn, near the patriarchate.
There, men in swimsuits jumped into the cold waters, in weather when one would shy away from even dipping his or her toe into the water. Their mission was to retrieve a wooden cross thrown into the sea by Patriarch, a custom that is observed in the Eastern Churches of Orthodox Christianity, from the Balkans to the Middle East.
MORE:    http://www.dailysabah.com/minorities/2017/01/06/a-cross-to-bear-christian-community-marks-cold-epiphany
.