COMPILED FROM WIRE SERVICES
ISTANBUL
Published30.03.2019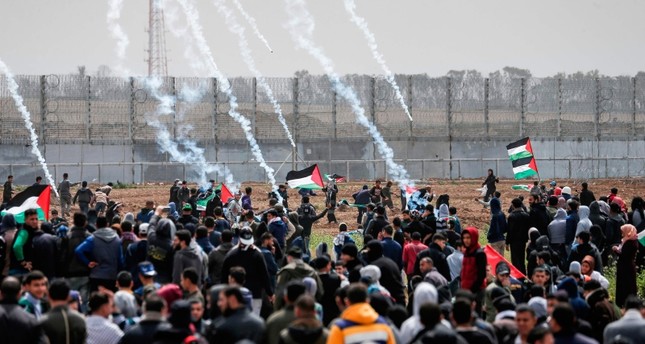 Tear gas canisters fall among Palestinian protesters during a demonstration near the border with Israel in Malaka east of Gaza City on March 30, 2019. (AFP Photo)
Thousands of Palestinians gathered on the Gaza Strip-Israel buffer zone on Saturday to take part in mass rallies marking the first anniversary of the Great March of Return anti-occupation protests.
The protests also commemorate the 43rd anniversary of the Land Day when six people were killed in 1976 during demonstrations against seizure of Arab land in Galilee.
Waving Palestinian flags, demonstrators chanted slogans for an end to the 12-year-long Israeli blockade on Gaza, according to an Anadolu Agency reporter in the area. Israeli army said some 30,000 people took part in the protests, but the number could be much higher.
Dozens of volunteers in fluorescent vests prepared to restrain demonstrators from getting too close to the border fence. Ambulances lined up in front of clinics and police supervised encampments erected far from the fence.
Some protesters started approaching the barrier, prompting Israeli forces to respond with tear gas.
The Hamas-run Health Ministry said Saturday that Adham Amara, 17, was wounded in the face and died in one of the protest camps in east Gaza City, while another 33 demonstrators were injured, including ten by live ammunition.
The ministry previously said a 21-year-old, Mohammad Jihad Saad, died on Saturday morning after he was hit in the head by shrapnel from an Israeli tank shell fired at eastern Gaza the night before. Nine other Gazans were injured in clashes with the Israeli army Friday evening, the ministry said.
Later on Saturday a fourth Palestinian died from Israeli fire, the health ministry in the enclave said.
The Israeli army said that explosive devices had been thrown from the Gaza Strip towards the border fence and that in response, a tank struck a Hamas military post.
Meanwhile, Hamas chief Ismail Haniyeh and an Egyptian security delegation visited a protest spot east of Gaza City.
The delegation is currently in Gaza as part of a shuttle diplomacy to reach a truce deal between Gaza-based resistance factions and Israel.
In the occupied West Bank, clashes erupted between Palestinian protesters and Israeli forces.
Israeli forces used live ammunition, rubber bullets and teargas to disperse Palestinian protesters in the cities of Ramallah, Al-Bireh and Nablus, according to Anadolu Agency reporters in the area.
Several protesters were reportedly injured during the violence.
more:
https://www.dailysabah.com/mideast/2019/03/30/thousands-gather-on-gaza-buffer-zone-to-mark-land-day-weekly-protests-against-israel