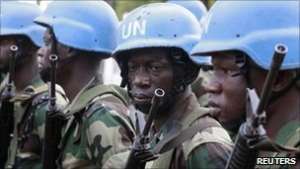 The Ahmadiyya Muslim Mission in Ghana will on Wednesday October 10 hold a day's Peace Conference on the theme: 'Peace and Global Justice,' in Accra.
A statement issued in Accra by Mohammed Affum, Publications Secretary at the Mission, said the conference aim to promote a deeper understanding of the teachings of Islam in relation to peace and inspire a concerted effort towards the attainment of global peace
It said the event would bring together diplomats, politicians, academics, corporate executives, and religious and traditional leaders.
The statement said the keynote address would be delivered by Sir Dr Iftikar Ahmad Ayaz, Consul General of Tuvalu in the United Kingdom, and a prominent human rights campaigner.
Other Speakers are Dr. Mustapha Hamid, Minister of Zongo and Inner City Development, the Most Rev. Professor Emmanuel Asante, Chairman of the National Peace Council, and Dr. Vladimir Antwi Danso, an international relations expert and Dean of Studies at the Ghana Armed Forces Command and Staff College in Accra.
It said the Ahmadiyya Prize for the Advancement of Peace would be presented to an individual or organization, which has made a significant contribution towards the advancement of peace in Africa.
It said a key yearning and aspiration of mankind over ages had been durable peace with mechanisms to promote and guarantee peace, however, efforts in various forms and shapes had been expended over the last century but lasting peace had proved elusive.
It said the single most important malady of the contemporary world today was the absence of peace to the extent that finding a cure had proved and continued to challenge the ingenuity of man, who has reached a high standard of achievement in material progress made possible by the advancement of science and technology.
According to the Ahmadiyya Muslim Mission, the horrific experience from the Second World War and scars imprinted on the conscience of nations inspired a global wish that the world should never be subjected again to another disaster too ghastly to contemplate.
'In the ashes of the Second World War, the United Nations architecture is on erected as the foundation for global peace. Rather sadly, this structure was doomed to collapse sooner than later,' it said.
The Mission said the veto power wielded by the so-called permanent members of the UN Security Council masked the real intentions of the bigger countries of the international community.
It said, therefore, it would be an overstatement to conclude that the record of the UN in ensuring world peace had been dismal.
The statement said that self-interest had always prevailed over absolute justice as a requirement for peace and the concept of right and wrong had never played a part in decision-making of the UN.
source:
https://www.modernghana.com/news/888097/ahmadiyya-mission-conference-on-peace-and-global-justice.html