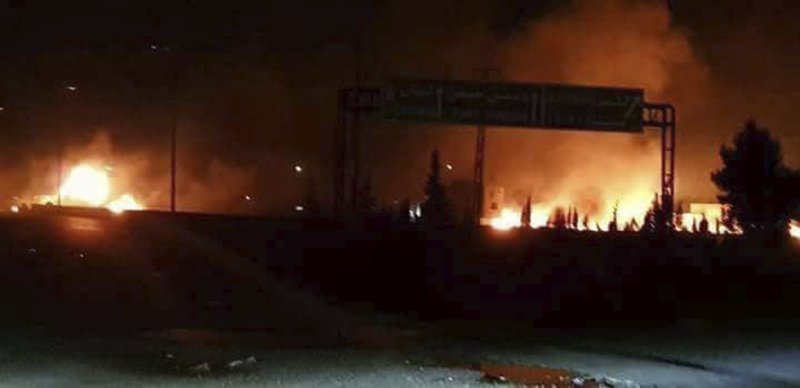 JERUSALEM (AP) — The latest on tensions between Israel and Syria (all times local):
1:30 a.m.
Israel's military says Iranian forces based in neighboring Syria fired about 20 projectiles at Israeli positions in the Golan Heights.
It says Israeli defense systems intercepted "some" of the incoming rockets and damage on the Israeli side was minimal. There were no Israeli casualties.
Lt. Col. Jonathan Conricus says Israel views the incident "with severity" and has responded.
Israel has been on heightened alert in recent days, anticipating a possible Iranian retaliation. Iran has vowed revenge after blaming Israel for a series of deadly airstrikes on Iranian positions in Syria.
Pro-Syrian government media and activists reported earlier that missiles had been fired toward Israel from southern Syria late Wednesday targeting Israeli positions in the occupied Golan heights.
___
12:40 a.m.
The Israeli army says air raid sirens have sounded in the Golan Heights.
The sirens went off shortly after the Syrian state news agency and activists reported rocket fire from Israel into southern Syrian just before midnight Wednesday.
The Israeli army says it is investigating and has no further details.
The Britain-based Syrian Observatory for Human Rights says aircraft flew over the Israeli-occupied Golan Heights, adjacent to southern Syria. There are no immediate reports of airstrikes.
Israel's military has been on heightened alert in recent days, fearing an attack from Syria. Syria and Iran have accused Israel of carrying out a series of airstrikes on Iranian targets in Syria in recent weeks. Israel has not confirmed or denied involvement.
___
9:25 a.m.
Israeli Prime Minister Benjamin Netanyahu has traveled to Moscow where he and President Vladimir Putin will discuss military coordination amid new strikes in Syria blamed on Israel.
His trip Wednesday came as Syrian state-run media said Israel struck a military outpost near the capital, Damascus, the previous night. The Britain-based Syrian Observatory for Human Rights said the missiles targeted depots and rocket launchers that likely belonged to Iran's elite Revolutionary Guard in Kisweh, killing nine people.
President Donald Trump's announcement Tuesday that the U.S. would withdraw from the 2015 nuclear deal with Iran has triggered uncertainty and threatened to spark more unrest in the Middle East.
Tensions between Israel and Iran are high over Iran's efforts to expand its military presence in Syria, where the Iranians are a key ally of President Bashar Assad. Repeated airstrikes attributed to Israel have killed Iranian fighters and prompted threats of reprisal from Tehran.
source:   https://apnews.com/5ec23074ec414753844640e73a4a27f3/The-Latest:-Israel-says-Iranians-in-Syria-fired-missiles?utm_source=Twitter&utm_campaign=SocialFlow&utm_medium=AP