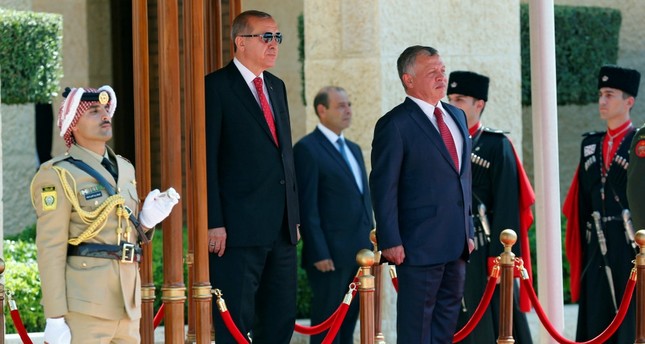 President Erdoğan (L) and Jordan's King Abdullah II (R) review Bedouin honor guards at the Royal Palace in Amman, Jordan, Aug. 21.
Regarding his visit to the country, President Erdoğan said Turkey and Jordan have established an important dialogue and coordination regarding the crisis at the Temple Mount and Al-Aqsa and emphasized Jordan's importance in protecting Muslim holy places in Jerusalem
Ongoing issues regarding Palestine and the status of Jerusalem were expected to be discussed during President Recep Tayyip Erdoğan's one-day visit to Jordan yesterday. Ahead of his departure from Istanbul, Erdoğan said at a press conference that Turkey attaches importance to Jordan's role in protecting holy sites in Jerusalem. "We have established importance of dialogue and coordination regarding the crisis with Jordan regading the Temple Mount in the Old City of Jerusalem. We do not want similar incidents of harassment, attacks or the violations of civil rights to happen again. For this, Muslims must be in full cooperation on the issue of Jerusalem," Erdoğan said.
Turkey's president was welcomed by Jordanian King Abdullah II with an official ceremony in Amman, later attending closed-door meetings with delegations in the Al-Husseiniya Palace.
Jordan is the custodian of the Al-Aqsa Mosque compound in east Jerusalem, the third holiest site for Muslims, which sits on top of the Temple Mount, a hill that is considered the most sacred site in Judaism.
Last month, Israel imposed security measures on Al-Aqsa after two police officers were killed at the site. The measures, which included the installation of metal detectors and cameras, led to renewed violence between Palestinians and security forces and led to outrage across the Muslim world.
READ MORE HERE:   https://www.dailysabah.com/diplomacy/2017/08/22/ankara-amman-discuss-efforts-to-protect-jerusalem