Source: The Guardian
BY Ruth Michaelson in Cairo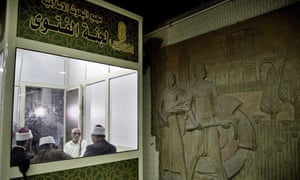 Sheikhs from Egypt's highest Islamic authority have opened a fatwa kiosk in the Cairo metro to offer religious advice to commuters in what they say is an effort to counter extremism.
The idea is proving popular with travellers passing through Cairo's al-Shohada metro station, a busy transport hub, who queue up to sit with a group of religious scholars inside a green patterned booth, sheltered from the bustle of the metro.
"We usually talk about the issues of daily life, and what religion says about such things. The topics we mostly discuss are marriage, divorce and inheritance," said one sheikh staffing the booth for the morning commute, who declined to be named.
According to al-Azhar al-Sharif, Egypt's top Islamic body, which installed the booth, the project is intended to correct misinterpretations of Islam. The institution has frequently clashed with the government of the president, Abdel-Fatah al-Sisi, who has repeatedly called for a "religious reformation" in Islam to combat extremism.