COMPILED FROM WIRE SERVICES
ISTANBUL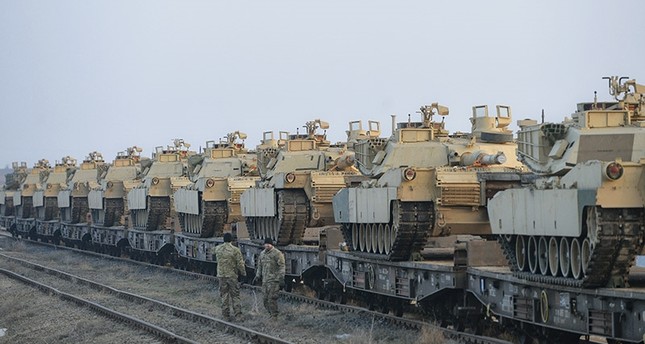 Servicemen of the "Fighting Eagles" 1st Battalion, 8th Infantry Regiment, walk by tanks that arrived via train to the US base in Mihail Kogalniceanu, eastern Romania, Tuesday, Feb. 14, 2017. (AP Photo)
Worldwide arms trade has risen to its highest level since the Cold War in the last five years, driven by a demand from the Middle East and Asia, a study said Monday.
Between 2012-2016, arms imports in terms of volume by countries in Asia and Oceania accounted for 43 percent of global imports, a 7.7 rise compared to the previous 2007-2011 period, according to the Stockholm International Peace Research Institute (SIPRI).
"Transfer of major weapons in 2012-16 reached their highest volume for any five-year period since the end of" the Cold War, the independent institute said in a statement.
The share of Asia and Oceania in international imports was slightly higher (44 percent) between 2007 and 2011.
The share of countries in the Middle East and the Gulf monarchies jumped from 17 percent to 29 percent, far ahead of Europe (11 percent, down seven points), the Americas (8.6 percent, down 2.4 percentage points) and Africa (8.1 percent, down 1.3 points).
"Over the past five years, most states in the Middle East have turned primarily to the USA and Europe in their accelerated pursuit of advanced military capabilities", said Pieter Wezeman, Senior Researcher with the SIPRI Arms and Military Expenditure Programme.
"Despite low oil prices, countries in the region continued to order more weapons in 2016, perceiving them as crucial tools for dealing with conflicts and regional tensions," he added.
SIPRI said worldwide arms imports and exports over the last five years have reached a record level since 1950.
Saudi Arabia was the second largest importer of weapons in the world (up 212 percent), behind India, which unlike China, does not have a production at national level yet. India accounted for 13 percent of global arms imports between 2012 and 2016, while second-placed Saudi Arabia stood at 8 percent.
The think tank estimated that India acquired 68 per cent of its arms from Russia, five times more than what the Asian heavyweight bought from the US. India was tipped to remain a major importer due to its failure to develop an indigenous arms industry, SIPRI said.
Saudi Arabia's main suppliers were the US – which accounted for half of the Gulf monarchy's imports – Britain and Spain.
China, the United Arab Emirates (UAE) and Algeria were the other biggest importers.
The United States remains the top weapons exporter with a 33 percent market share (up 3 point), ahead of Russia (23 percent, down 1 point), China (6.2 percent, up 2.4 points) and France (6.0 percent, down 0.9 points) passing Germany (5.6 percent, down 3.8 points).
These five countries account for almost 75 percent of global exports of heavy weapons.
The US sold arms to at least 100 countries, far more than any other major exporter. Combat aircraft and missile defense systems were among its most lucrative products.
Russia sold arms to 50 states, although over two thirds of its exports went to India, Vietnam, China and Algeria.
France's boost in the export ranking is a result of important contracts signed with Egypt, which acquired Mistral-style warships and Rafale combat aircraft.
Aude Fleurant, head of the armaments program at SIPRI, told AFP that "competition is fierce among European producers" with France, Germany and Britain in the lead.
Europe accounted for 11 per cent of global imports, down by over a third compared to the 2007-2011 period in the wake of defense cuts.
The region of Asia and Oceania accounted for 43 per cent of all imports in the period with Vietnam, Indonesia and the Philippines increasing their demand for naval vessels, submarines and combat aircraft.
The Middle East's combined share stood at 29 per cent – almost double compared to the 2007-2011 period.
"Over the past five years, most states in the Middle East have turned primarily to the US and Europe in their accelerated pursuit of advanced military capabilities," Wezeman said.
Imports declined in Latin America, notably by Venezuela and Colombia, while Mexico bucked the trend.
Africa also saw imports dip, with Algeria accounting for almost half of the region's imports.
The arms transfers database does not include small arms and is based on public sources ranging from national and regional newspapers to specialized international journals, as well as government and industry reports.
SIPRI uses a five-year cycle to even out fluctuations caused by a big order during any specific year
MORE:   https://www.dailysabah.com/defense/2017/02/20/us-russia-account-for-more-than-half-of-global-arms-trade-which-hit-highest-level-since-cold-war